We did NOT see this coming in I'm A Celebrity!
Camp's biggest rivals
Lady C
and Brian Friedman have kissed and made up after a week of snipes, insults and generally dislike towards each other.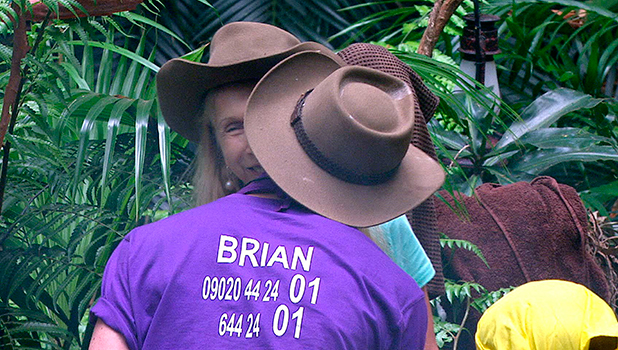 The rather startling turn of affairs came on tonight's episode when it began to sink in at camp that someone is going home. And who wants to leave the jungle when there is still animosity in the air?
After the green team
(Lady C, Yvette and Susannah) were banished to Snake Rock by Vicky, George and Duncan
, former
X Factor
choreographer Brian decided to make up with Lady C in case she was eliminated.
Lady C explained: "Brian hugged and kissed me, we had a little joke and I thought that was very nice."
As it turned out, they didn't have to say goodbye wuite so soon, as later on the purple team – Brian, Jorgie and Tony – were also banished to Snake Rock and at risk of eviction.
But surprisingly, the newfound friendship between Lady C and Brian began to flourish and they exchanged more kisses and pleasantries. Lady C even offered to take Brian to Chinatown in London after he spoke about how much he loved Chinatown in Los Angeles.
What is going on?!
"Oddly enough, Lady C and I have made up, we're talking and joking with each other, it seems like pigs are flying," said Brian "I think I'm staying at her castle and we're going for a Chinese."
Jorgie added of the Snake Rock camp: "Everyone's getting along and talking calmly, we're together in peace! Brian and Lady C have even organised a date!"
PLEASE share images to Instagram, guys!
The lovey dovey friendship was certainly a far cry from the
row we saw between Lady C and Brian earlier this week
, when he accused her of being rude and talking over people, and she replied by saying: "Who the hell are you to speak about talking my dear?" she said. "You have verbal diarrhoea, not only do you have verbal diarrhoea, you are so full of s**t that if you ever took an enema you would disappear off the face of the earth without trace."