Rob Kardashian's notable absence from the Kardashian Jenner Thanksgiving celebrations has left fans asking: just where on earth is he?!
The reality star has led a reclusive lifestyle for the past year but many fans were still concerned about his wellbeing when he failed to appear in the family photo.
A picture posted to Instagram shows the
whole Kardashian Jenner clan and their other halves
happily posing on a Los Angeles clifftop after enjoying their Thanksgiving meal.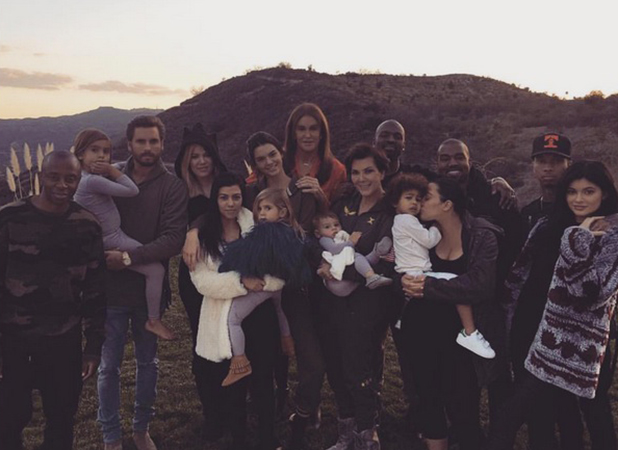 It's possible Rob was the one taking the picture but that didn't stop several Twitter users asking where he was and even directly messaging members of his family for an answer.
Where's @robkardashian ?! I miss him.

— Neil (@shyboi2020) November 27, 2015
@robkardashian I hope you're doing okay... I don't see you in any family pics and it's starting to worry me much love xo

— Courtney (@Fairydustmagic) November 27, 2015
Can rob Kardashian like actually go to family events and take pics with people, it just doesn't seem right without him

— thankful rd (@THECHEFBOYRD) November 27, 2015
Just realised.... Where is Rob Kardashian???? *looks at their thanksgiving family picture

— Lilika. (@LilikaSii) November 27, 2015
Why wasn't Rob Kardashian at Thanksgiving? #Confused *Corey & Caitlyn stood by each other and The Lord was there

— Neimyyy(@neimyyy) November 27, 2015
Where in the world is Rob Kardashian ?

— partylikeits2007 (@partylikeits07) November 27, 2015
I don't know why but it always breaks my heart when I don't see Rob Kardashian in family pictures

— Raúl A. Torres (@radravingrawl) November 27, 2015
Rob has not tweeted since 13 November. The 28-year-old has kept out of the limelight since last year, when he memorably left sister Kim's wedding in Europe to fly back to LA, missing her nuptials in Florence.
Since then, he's rarely been seen in public, with several reports suggesting he's battling anxiety issues and feels unhappy about his weight gain.
In a
interview with People this year, big sister Khloe
said: "I've been really trying. But I have my moments and I do snap. I've offered to get a chef, I'm like, 'What's your excuse?' But it's not just that. I can't win life for Rob. I have to wait until [he's] ready to do it for himself."
Khloe added: "He's charming, charismatic, everything. That's what's so infuriating. I'm like, 'Where is your will to live life? Let's be around people! It's sad, because he's only wasting his life more and more. But he has to figure it out for himself. And he has so many people who want to help him."
For exclusive competitions and amazing prizes visit Reveal's Facebook page NOW!