I'm A Celebrity viewers were left chuckling last night when a technical glitch meant Ant & Dec's phone call to camp was cut short.
Ant had been on his mobile phone to Ferne to inform her of the results of the immunity challenge, but the phone call was accidentally cut off and ended rather abruptly. Oops.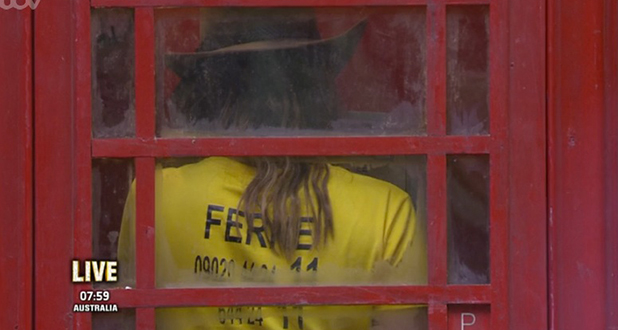 The official
I'm A Celeb
Twitter account poked fun at the glitch by tweeting: "Sorry @antanddec, Ferne didn't mean to cut you off. She's just so used to getting annoying PPI calls on that phone. #ImACeleb
Many other viewers also took to Twitter to laugh at the incident:
I just wet myself laughing when Fearne just put down that phone. #imaceleb

— Karl Compton (@KarlJCompton) November 26, 2015
Haha I don't think @antanddec will be using the phone as a method of comms again hehe! #ImACeleb @imacelebrity

— Tricia (@tishtosh85) November 26, 2015
Don't think that phone link quite worked on #ImACeleb there

— Mike Pollitt (@MikePollitt12) November 26, 2015
OMG Ant making those phone calls was my favourite part of the show! Haha! @antanddec #ImACeleb

— Jenny (@mb20nut) November 26, 2015
And that'll be the last time they attempt to do a live phone call to the jungle on #ImACeleb

— Charlie Jackson (@Charliech00) November 26, 2015
need more credit on your phone there ant #ImACeleb

— ️ (@basicallylewis) November 26, 2015
The live phone call on #imaceleb tonight was one of the best pieces of telly from this year. I love Ant & Dec

— Raechelle Jackson (@raechelle26) November 26, 2015
#Ant needs a new phone-awful signal on that one @antanddec #ImACeleb

— SB5 (@Shadow_579) November 26, 2015
I hate it when I ring a phone box in the middle of the Australian jungle and some Essex bird answers, says hello and hangs up! #ImACeleb

— MR SUPERPIDGE (@superpidge) November 26, 2015
@antanddec I see you had a problem with your phone box. I'm a telephone engineer and available for a call out #ImACeleb #ImACelebrity

— James Bromley (@Jbromley18) November 26, 2015
@antanddec you should use some dingo dollars to buy a new phone #ImACeleb

— Rickie Grainger (@grainger_rickie) November 26, 2015
Although the phone call was cut short, Ant had enough time to let Ferne know the results of the challenge: Vicky, Duncan and George's pink team won the challenge and had to choose another team to send to the Danger Zone aka Snake Rock and face the first eviction. They chose to send Yvette, Susannah and Lady C.