Ronan and Storm Keating looked the picture of happiness as they discussed their wedding on ITV's This Morning earlier today.
The couple - who met on the set of
The Voice
in Australia -
tied the knot in Scotland
in August.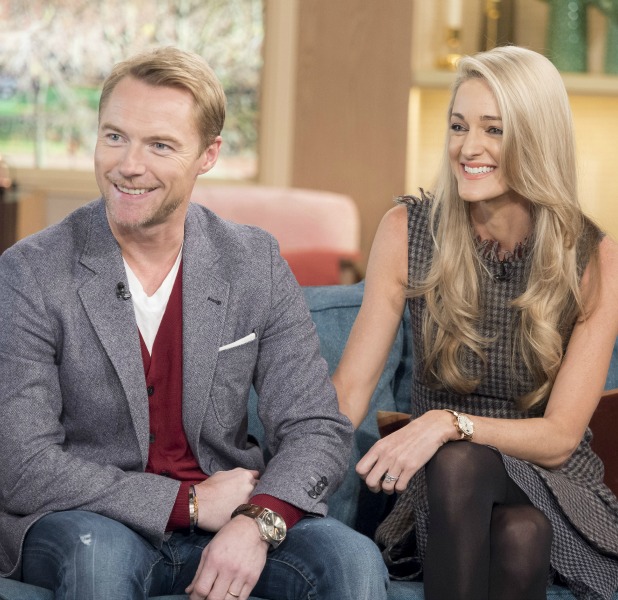 Ronan said: "We were at a beautiful resort near the water, it was amazing and the hottest day on record for the year - it was beautiful. The one thing we were worried about in Scotland was the weather but it was an incredible day... The speeches were amazing, it was tears and laughter all day… it was magic."
Another magical part of the day was Ed Sheeran turning up to serenade the couple after their nuptials.
"We were very lucky! I asked him a few months before and I couldn't believe he said, 'yeah, no problem, let me check the diary and make sure I'm free,'" said Ronan, "and he said he'd come up and do it. I just couldn't believe it."
Ronan kept his plans a secret from Storm, who said: "I only knew that Ro's manager was going to sing for us, because he sang at his 20 years earlier, and I was close to tears just by that! And they moved my back to start dancing so I didn't know what was happening behind me… and the next minute everyone just starting screaming and I turned around and there was Ed and I lost it! A massive surprise."
It was a family affair as Ronan's son was best man and his daughters served as bridesmaid and flower girl. Storm said that becoming a stepmother to Ronan's children had been the "best part" of marriage. "That's the best part! They are amazing - the three are unbelievable and have made it really easy for me."