Kourtney Kardashian has restricted Scott Disick's access to her home following their split.
The mother-of-three has taken away Scott's access cards and requested he phones the security gate in advance when he wants to visit his children with Kourtney, son Mason, five, daughter Penelope, three, and son Reign, eleven months.
In last night's
Keeping Up With The Kardashians
episode that aired in the US, viewers saw
Kris Jenner inviting Scott to her home
to try to mediate things between him and Kourtney.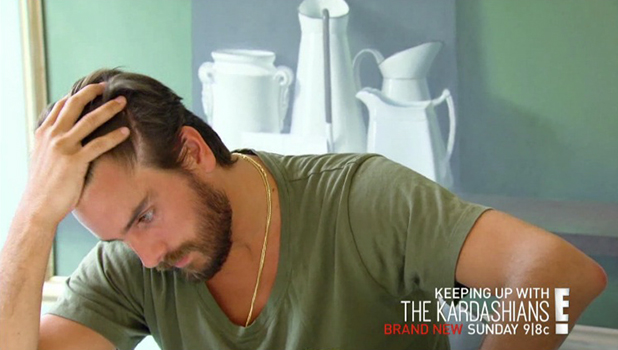 Scott complained that Kourtney had taken away his keys to the house and was sending mixed messages about when he could come around, suddenly taking away the 'open door policy' they had before.
Kris phoned Kourtney to clarify and Kourtney said: "There was [an open door policy] but that has changed. He was flaking too often. Every time I tried to have him sit there and have dinner with the kids he sits in the other room on his phone."
She continued: "He flaked on going to the kids' first day of school. He says, 'I can't go because I hate school s**t, I get anxious.' When really he went out and partied through the next day, just like a real f**king asshole. His main priorty is himself and not the kids and that's what's important here, the kids."
Kourtney then told Scott: "They need a parent who is present and provide them with a beneficial experience, not something that is harmful. I can't wait for the day we can all hang out together, but he's not in that place right now."
She told Scott that he could come round that night and have dinner with the kids at 5.30pm and put them to bed, but Scott told Kris Jenner he was going to Florida instead. Kris said if she only had a certain window to see her children she would be there, not on a plane to a different city.
Kris told Scott that he had "f**ked up" with Kourtney and needed to earn back her trust.
Keeping Up With The Kardashians
airs Sunday nights on E!
All you need to know about
Kourtney Kardashian
:
For exclusive competitions and amazing prizes visit Reveal's Facebook page NOW!