Rylan Clark shared exclusive photographs from his wedding day on today's ITV's This Morning.
The showbiz reporter looked proud as punch while showing pictures of his nuptials to husband Dan Neal, which took place in Essex earlier this month.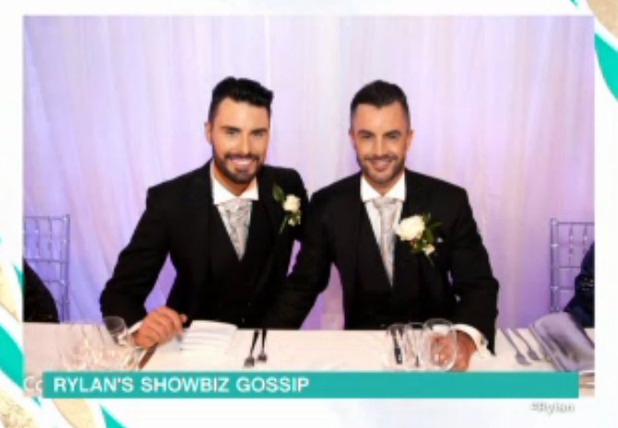 Speaking on the show today, he said: "We had the best day. Our family and friends were just amazing. And it was so nice that we managed to keep it as private as we did.
"We could have put these in a magazine - we thought about it - but we thought, do you know what, we'll just come on here, it's like my second home, and half of our family ain't seen these yet! So I hope they're watching! We didn't want to do a magazine deal… look, Eamonn [Holmes] loved it, and Claire from Steps was a bridesmaid."
"It was so lovely, and we left our outfits right to the last minute - it was the one thing we forgot to do… and this amazing company made our outfits in two weeks!" he said. "I drew up what I wanted and they made it. I literally couldn't thank them enough."
Aww. Congrats to Rylan and Dan!
Phillip Schofield had said on the show earlier this month that he was looking forward to seeing the photos. Rylan also sent a message to
This Morning
viewers shortly after the nuptials, saying: " "We want to thank everyone who made our day so special, to all our friends and family we couldn't have done it without you, and to all our well wishers - thank you for being so lovely. All our love the Clark-Neals."