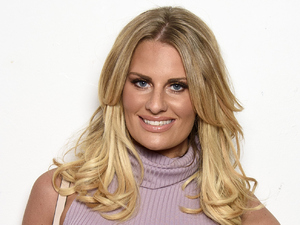 The Only Way Is Essex's Danielle Armstrong exclusively shares her views on the latest episode of I'm A Celebrity... Get Me Out Of Here!
Episode 7.
It was morning in Croc Creek and luckily for any men watching the show, they got to see the gorgeous Vicky taking the famous jungle shower. This is a time when any female celeb (usually in white swimwear) get to show off their fine physiques whilst pouting and sensually cleaning themselves...Well, not for our Vicky, ha! As much as I thought she looked amazing, she said she didn't feel sexy as she kept dropping the soap and getting shampoo in her eyes. Well nobody would have guessed as she looked sexy to us!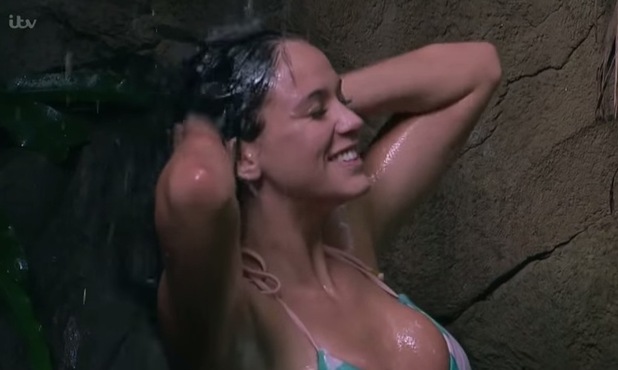 Brian and Susannah discussed the lack of Duncan's domestic skills in washing the laundry. Tony suggested that maybe "ladies" would be more suited to the laundry then men. Ouchhh! If I'm completely honest, I slightly agree with Tony as James [aka Lockie] was awful at washing my clothes and I would rather just do it myself. Ha!
It was Bushtucker time for my girls Ferne and Vicky and it didn't look easy - I mean the name Horror Flying Circus says it all! Ferne got blindfolded and had to walk across the obstacle course whilst being instructed by Vicky who was on the opposite side of the planks directing her. I was nervous as I know Vicky isn't the best at knowing her left from her right! Ferne then had to grab a star and throw it across for Vicky to catch and each star was worth two meals for camp! I've always been a fan of Vicky's deep Geordie accent and watching her giving Ferne instructions was hysterical to watch.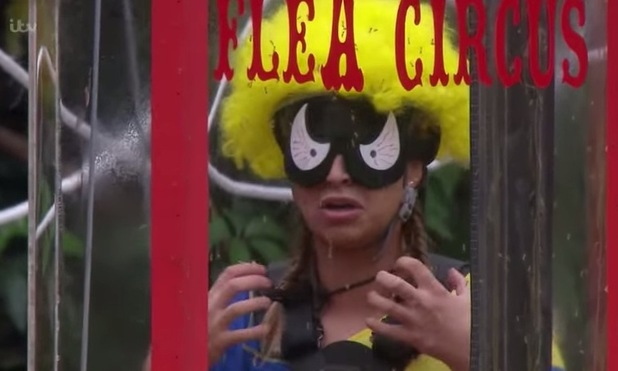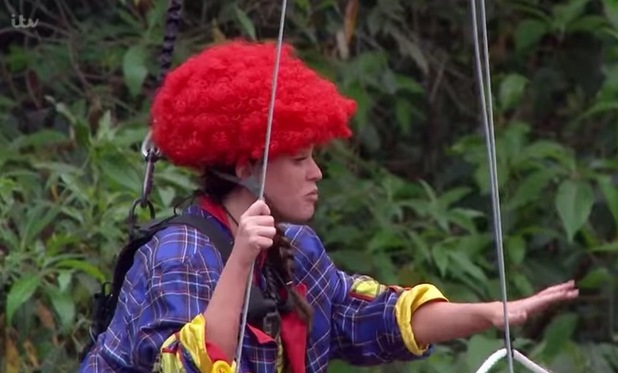 After lots of "right darling, left babe, forward darling", Ferne was successful as she grabbed the star, threw it over to Vicky and won two meals for camp! These two are like a double act and I'm loving it! Next we saw Ferne being directed by Vicky to go into a perspex box where she explained there were "some form of ant in there". Oh god, Ferne's already screaming before getting in there, but with Vicky's encouraging words she forced herself into the box of green ants.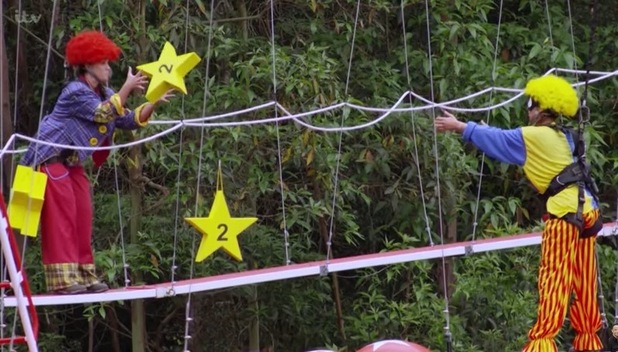 She got the star quicker then expected but as she was getting out in such a panic, she rushed and dropped the star...she was gutted and so was I for her. The girls powered on and with Vicky's fab communication skills they gained another star!
As the girls carried on to get more stars it was becoming too difficult for Ferne to balance and she fell several times. I could see she was getting frustrated and the pressure was starting to get to her. She's always been competitive and hates to lose anything, so when she failed to grab the last star I knew she would feel defeated and annoyed with herself. Both girls were amazing but seemed disappointed with achieving half the stars. Once back at camp, the girls were disheartened and we saw Vicky get emotional. I think they are both being way too hard on themselves and I wanted to give them a Danni cuddle.
We later saw Chris, Jorgie and Susannah having a heart to heart about their loved ones at home. Chris opened up about feeling that he's put his career before his children and missing out on watching their football matches. As much as I felt sorry for him and respect he acknowledges his faults, I can't help but think how hard that must have been for his children and wonder how they felt listening to their dad talk about this in the jungle.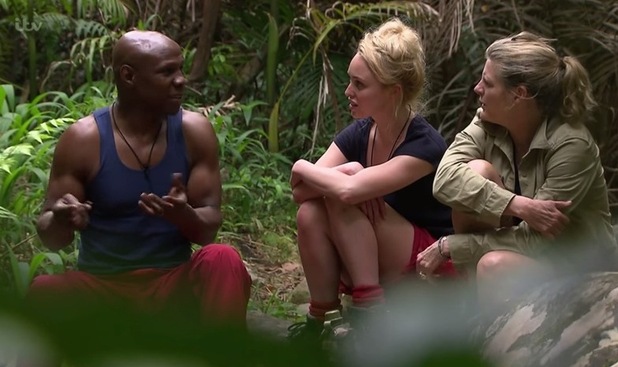 Duncan was voted camp leader and he picked Kieron to be deputy which is great because we haven't seen much of Kieron so far. He seems lovely but slightly on the dull side for me - hopefully we can see him come out of his shell more.
Duncan read out the job roles to the campers and everyone seemed happy apart from Chris. The gentleman Chris has concerns with Duncan's choices of jobs for the ladies. He didn't agree that Lady C should have to go down to where the rocks are as it's dangerous for her. Duncan was sticking to his guns on this one and Chris was far from impressed! Call me old school, but I love a man that looks after a woman and I think people take sexism too far these days. If the men around are bigger and physically stronger then why not let the women have the roles of cooking and cleaning? What's the big deal?! Brian's comments are also starting to annoy me. I feel like he's going to be the jungle stirrer... Chuck him his wooden spoon someone, ha!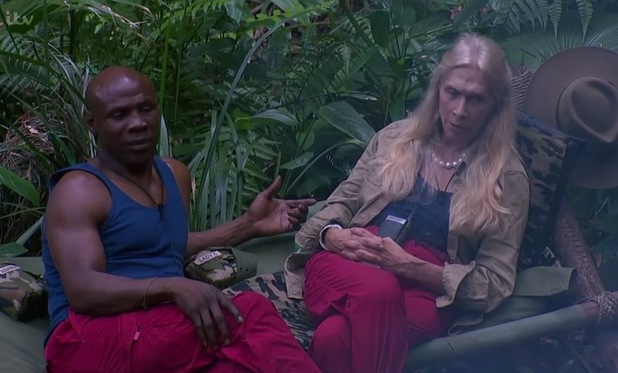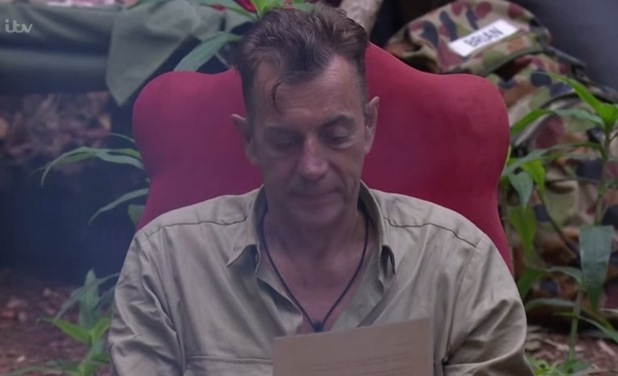 Kieron and Brian had a challenge where they had to count how many chickens had green, yellow and red tags around their ankles and then find the corresponding eggs! Dressed as what looked like the famous character Big Bird, both celebs completed the task and won chocolate for camp! Although, they decide to let the rest of the camp think they had lost so they could surprise them after dinner with dessert!
It was octopus for supper and as Brian was chef for the night he cooked up a storm but he also angered my girl Vicky. He said he feels the energy in camp has changed and it's not like "the old days, it feels different, I miss my team".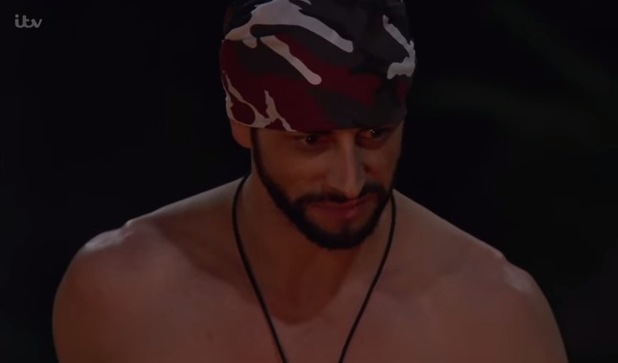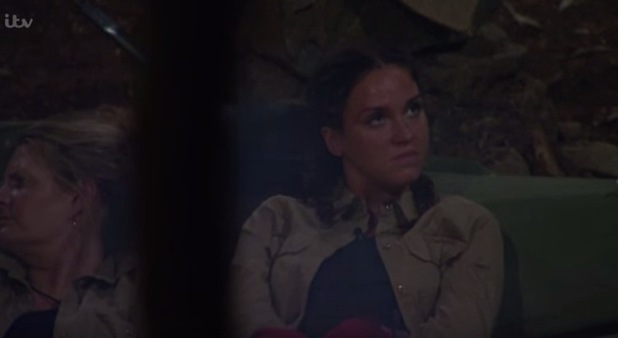 It's a right kick in the teeth for late arrivals Ferne and Vicky. Brian, you might as well just say it's not the same since these two joined us... Is he joking! Too right Vicky has taken offence and as she told Ferne what he said I can't help but think there's going to be jungle beef soon! I personally think Brian knows both girls are fab and getting picked for trials as the wise public love to watch them. #Jel."
Danni xx
Try Reveal's digital edition on iPhone & iPad. Subscribe now & never miss an issue!
I'm A Celeb full line-up:
Copyright: ITV