Reese Witherspoon has recalled the moment she first met her Hot Pursuit co-star Sofía Vergara.
Like many of us, Reese is a fan of hit US comedy
Modern Family
, which Sofía stars in, and she was thought it would be a good idea to get Sophia on board with a new film.
"I was such a huge fan of Sofia's on
Modern Family
," said Reese. "My family watches it every Wednesday night on ABC. I was thinking about making a buddy movie, and I thought it would be really funny to make one with her."
Reese set up a meeting with Sofía at a hotel, but she said the Colombian-American actress caught the eye of pretty much every male in sight!
"So I set up a meeting at a hotel lobby, and, literally, she walked in and every man stopped what he was doing and just stared at her the entire time she walked through the lobby," Reese explained. "It was like being in a hair-care commercial!
"She sat down, and was just as lovely and charming as I thought she would be, thank goodness. We just started talking about movies, and this was the one we both decided would be the funniest idea."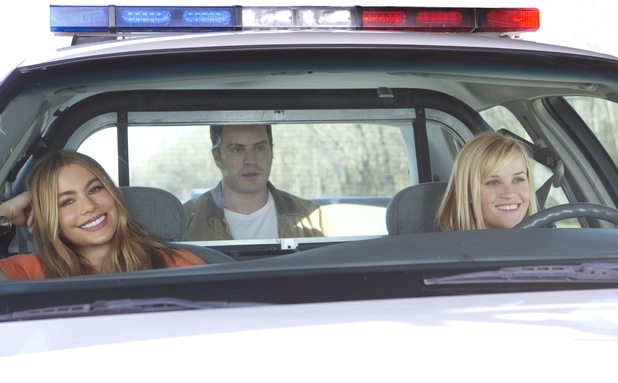 Hot Pursuit
has Reese as a producer and Sofia as executive producer. It follows the story of uptight cop Cooper (Reese) who attempts to protect sexy and outgoing widow Daniella (Sofia) of a drug boss as they race through Texas while being pursued by crooked cops and murderous gunmen.
"This movie is very special in the sense that it's not the normal movie where girls are trying to get some guy or getting married, or something like that," explained Sofia. "This is a movie where these two women, who have very different personalities, are trying to achieve something - the same thing - and trying to survive.
"So, I think a lot of girls can look at this and relate to this relationship. You don't have to be the same, you don't have to look the same, to understand another human being and support each other."
Hot Pursuit is out on Blu-ray and DVD on Monday 23 November.
Try Reveal's digital edition on iPhone & iPad. Subscribe now & never miss an issue!