One Direction star Harry Styles confessed he has kissed a fan before, while playing a game of 'Never Have I Ever' on The Ellen DeGeneres Show.
It's the perfect game to get anybody to spill their secrets, and while you usually have a bit of Dutch courage to help you come clean, Harry was egged on by his bandmates as he played a more PG version with Ellen DeGeneres recently.
Ellen had roped in the help of 1D fans to get the boys to spill all and as the questions asked clearly targeted Harry, he couldn't help but get a little red-faced.
Kicking things off, Ellen asked Harry, Louis Tomlinson, Niall Horan and Liam Payne if they have ever had a song written about them.
That one was a no-brainer. Everybody knows Taylor Swift has penned her relationship with Harry, but refusing to give up the goods, he decided to play coy, telling Ellen he had never.
She, however, was not buying it. Turning Harry's paddle round to say 'I Have, she told the star there's no point playing if he's going to lie. She had a point...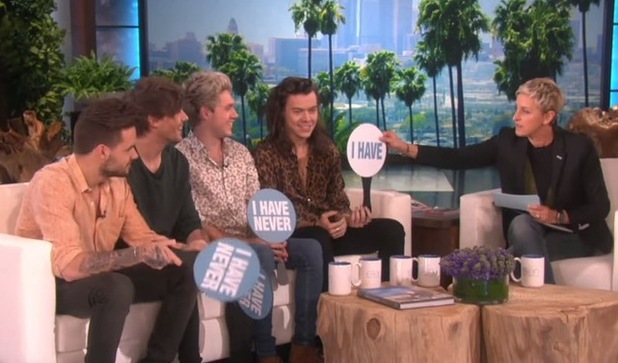 Next up, the boys were asked if they have ever got a tattoo that they now regret, before being asked if they had ever kissed a woman double their age.
Again, no shocker there -
Harry famously dated Caroline Flack
when he was 17 years old and she was 31. Getting a little embarrassed, he said: "What is this game?"
Ellen told the 21-year-old they were all having fun, before he quipped: "I'm not having fun!"
While Harry turned his paddle to 'I Have', so did Liam. Who knew?!
The boys were then asked if they had ever dated the same girl as one of their band members (they hadn't), before answering if they had ever skinny dipped in a hotel pool (Liam was the only one who said no).
Ellen then asked if any of the boys had "hooked up with a fan", with Harry being the only one to admit he had. Looking at his paddle, he cheekily said: "I think my one's broken..."
Oh, Harry!
For exclusive competitions and amazing prizes visit Reveal's Facebook page NOW!