Adele at the BBC is a spectacular hour-long programme about the woman behind the voice that continues to captivate fans worldwide.
Reveal
were invited to attend a screening of the show and somehow it's made us love the singing sensation even more. Is that even possible?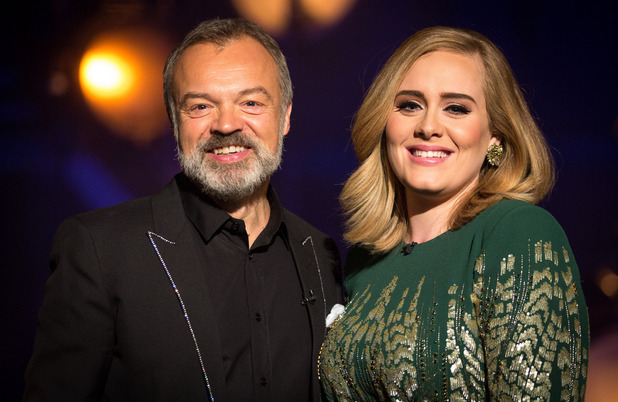 Hosted by Graham Norton,
Adele
performed 'Rolling In The Deep', 'Rumour Has It' and 'Skyfall'.
From her brand new album
25
, Adele also performed the record-breaking 'Hello' live for the very first time, and treated the studio audience to two new tracks: the poignant 'When We Were Young' and the beautiful 'A Million Years Ago', which is about her younger days singing with friends in Brockwell Park, but never in a million years thinking she would be where she is today.
The mum-of-one also took to the stage for 'Hometown Glory', which remains one of her favourite songs today. The song, which is about her life in London, was particularly special for her because it is now some 11 years since she wrote it.
She ended the show on the song that really catapulted her to fame - 'Someone Like You'.
In between all of the singing, Adele spoke to Graham about her life, fame, motherhood and recording the new album. She also made some fans
very
happy, and there is a really lovely - and equally funny - moment when she surprises Adele impersonators in a really spectacular way! It made us a little emosh just watching it all.
Here's what we learned:
1. Adele is genuinely overwhelmed with the reaction from fans since her comeback. "The general reaction blew my mind", she revealed. "I underestimated the power of the internet."
2. She shed a tear when 'Hello' got its first radio play. "I cried when 'Hello' came on the radio," she confessed, before joking: "First world problems!"
3. After 'Skyfall', Adele genuinely didn't know if she was going to make music again because she was worried she was never going to make anything that anyone liked, but she soon realised: "I can't do anything else, this is all that I like doing."
4. She has some regrets over the people she wrote about on her previous albums. "The last album, I hurt people's feelings. I felt quite bad," she said.
5. Adele describes herself as a "lioness" when it comes to being protective over her family.
6. She said she read somewhere that she was described as a "unicorn" because she is never seen out, something which she said couldn't be further from the truth. Adele said she isn't a "recluse", adding she goes out all the time and does normal things.
7. Adele has learned her lesson from sending drunken tweets all those years ago: "My management decided that it has to go through two people. I do write all my tweets though."
8. Adele said her voice changed after having vocal chord surgery - she was able to sing "much higher and lower" than she used to.
9. Being a mother to her son Angelo has been what she was always craving. She said motherhood "changed me completely. I was always yearning for something and I never knew what that was." She added: "He makes me realise everything about myself that I like and I don't like."
10. Adele is still the same person, and still so humble, despite all the fame. "My life has changed, I haven't changed," she declared.
11. She doesn't know if she will tour! "I don't know yet, I haven't decided," she revealed. "I'll do some shows in England. I'd like to tour."
Adele at the BBC will be shown on BBC One on Friday 20 November at 8.30pm.
Try Reveal's digital edition on iPhone & iPad. Subscribe now & never miss an issue!
Watch Adele perform 'Hello' below: