David Beckham has been named People Magazine's Sexiest Man Alive 2015.
The American magazine revealed the results of its iconic annual list during last night's
Jimmy Kimmel Live
in the US, and our very own Becks has topped the poll!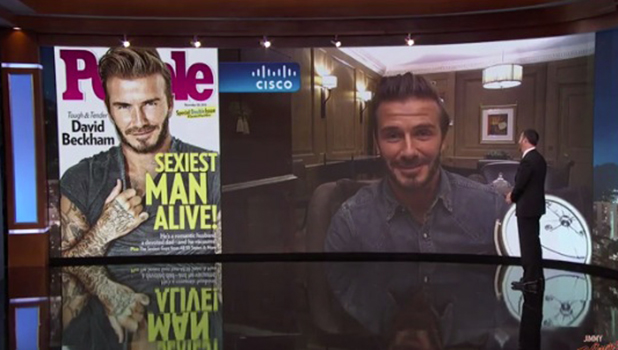 Becks said: "This is the best moment of my career! I can't believe it! I would obviously like to thank my parents for bringing me into this world. My hairdresser, my stylist..."
Instead of just revealing Becks as the winner, the studio audience were asked to guess the identity of the 'Sexiest Man Alive' based on several questions. Becks, who was on video link from London, was hidden from their view.
So, the questions and his answers that the audience asked before guessing his identity!
1. Has he ever played a Superhero?
No.
2. Are you an actor?
No.
3. Where you ever in a boyband?
No.
4. Are you married to a celebrity?
Yes.
5. Do you have an accent?
Yes.
6. Are you an athlete?
I was.
7. Do you have any tattoos?
I have one or two.
8. Have you ever been to jail?
No.
9. Has Taylor Swift ever made a song about you?
No.
10. Have you ever had a man bun?
Yes.
11. Have you ever won this title before?
No.
12. Do you have any kids?
Yes.
Congrats to David!