I'm A Celebrity...Get Me Out Of Here! returned to our TV screens last night and Twitter lapped up some genius moments.
Of course, the moment we're talking about is when Tony Hadley ignored
Susannah Constantine
's high five.
To be honest, Tony didn't purposely blank Susannah, he just simply did not see her hand gesture. But it made for great viewing.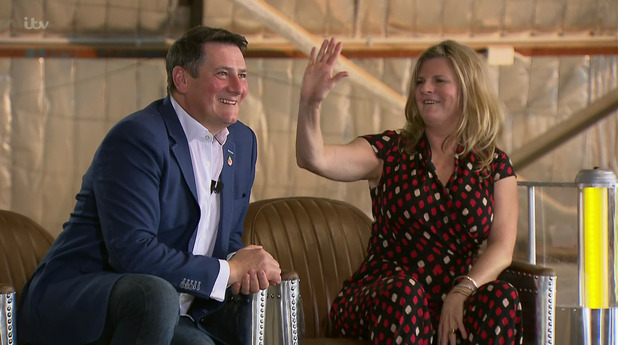 The pair had been picked as team captains for the first task, where they would hear the voice of a celebrity talking about themselves on a large screen, where they then had to decide who they wanted to pick.
We reckon it's going to be one of those moments when we'll look back in a few years and ask: "Who remembers that time Tony didn't high five Susannah?"
Check out some of Twitter reactions from the failed high five below:
Tony Hadley rejecting Susannah's high 5 was absolute gold, GOLD

— reece pryde (@reescodeesco) November 15, 2015
Susannah tried to high five Tony and he just blanked her

— charis saunders (@chariss97) November 15, 2015
Rumour has it that Susannah is still waiting for her high five from Tony

— Sean Young (@SeanYoung97) November 15, 2015
Tony mugged Susannah right off

— Kyraaaaa (@kyratroughton) November 15, 2015
Susannah got completely parred off by Tony

— -Nina (@abb_shawx) November 15, 2015
How's tony just gonna leave Susannah hanging and not high five her back on national tv #ImACeleb

— D (@debbielawal1) November 15, 2015
Susannah of Trinny and Susannah getting parred off for a high five by Spandau Ballet's Tony Hadley. This is why TV was invented.

— Ugly Boat Mouth (@elmer_dudd) November 15, 2015
Someone make a GIF of Tony Hadley rejecting Susannah Constantine's high five. #ImACeleb

— Jack White (@Jack5326) November 15, 2015
Hey! Who remembers that time Tony didn't high five Susannah!

#GreatMemories

#ImACeleb @antanddec @imacelebrity pic.twitter.com/hSoee9vqAe

— ITV (@ITV) November 15, 2015