Geordie Shore's Holly Hagan has opened up on her recent split with co-star Kyle Christie, telling fans she can't hate him because she "still loves" him.
Ahead of the reality show's eleventh series hitting our screens,
Holly had hinted viewers were going to watch her get her heart broken
. And true to her word, in last night's episode of the show,
Holly was left in tears as boyfriend Kyle ended their relationship.
He told Holly he was fed up of their constant arguing, telling her he couldn't be with her anymore, before later kissing another girl during a night out (harsh, right?). But despite Kyle locking lips with someone else just hours later, Holly has admitted she doesn't hate him for it...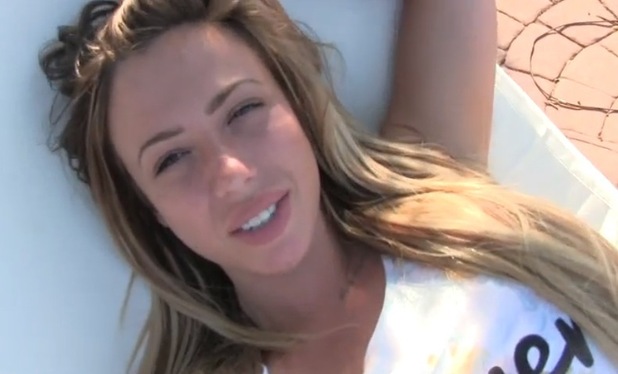 In a new clip shared by
MTV
, Holly takes over the house's 'Confession Cam' to share how she is feeling after her break up.
Recalling the moment Kyle pulled the plug on their romance, Holly admits: "I wasn't expecting it."
"It's so weird because I genuinely thought we'd be the type of couple that could get through anything and obviously we're not."
Putting on a brave face, Holly had headed out with her co-stars after her chat with Kyle, but ended the night early after tearing up again. Soon after she left,
Marnie then caught Kyle kissing someone else
, kicking off at her co-star, before then telling Holly what he had been up to. Not surprisingly, Holly was pretty devastated.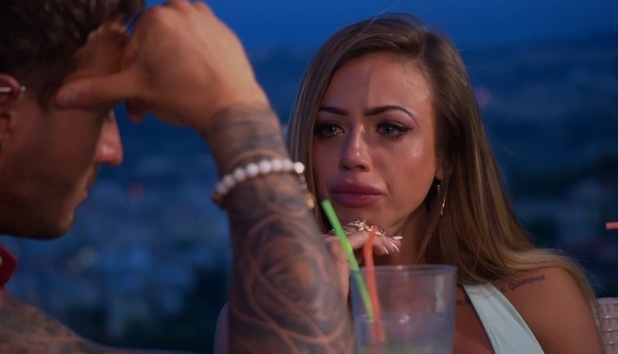 "How am I supposed to live in this house while he is getting with other people?" She questions. "How can you do that to somebody that you're meant to love?"
Despite it, though, Holly goes on to reveal she can't bring herself to hate her ex-beau.
She adds: "I hate it because I don't hate him. I still can't hate him - as much as I want to - I don't. I still love him.
"When you break up with somebody usually you have a few days where you lay in bed by yourself and you cry and listen to sad songs, I don't have the luxury of doing that. I've got to sit here and go out every single night and try and put a smile on my face when all I want to do is cry."
"And then when I do cry," she continues. "I've got to cry in front of another f***** million people. I do feel like this is the worst possible dumping situation that could possible happen to anyone… I have to endure it."
Oh, hols!
When
Reveal
caught up with Holly recently, she had told us filming
Geordie Shore
in Greece was the "worst" six weeks of her life. And now, we're beginning to understand why.
Not only has she argued constantly with her boyfriend,
she's fallen out with her BFF Charlotte Crosby
, come to blows with Chloe Etherington, had to hear people are talking about her behind her back, be dumped by her beau, watch him kiss another girl
and
sucked it all up and continued filming - even if she does really want to hide under the duvet for an eternity.
Despite the tough time she faced overseas,
Holly did tell us that she and Kyle are now back together
, having worked through their problems. A lot happier, the pair have been working on their relationship to make sure, next time round,
Geordie Shore
doesn't cause them any problems.
"We've got a lot of people that have a lot to say about us (other cast members from the show), but we've just tried to keep ourselves to ourselves," she said.
"Basically we are still together," Holly confirmed. "We've been trying to have a break every now and again from each other, just so when we do have to go and film together we don't have all this happen again."
Watch Holly and Kyle's Confession Cam (Warning: Contains strong language and sexual references)
For exclusive competitions and amazing prizes visit Reveal's Facebook page NOW!