TOWIE star Jessica Wright felt the wrath of Twitter last night, as fans reacted to her kissing her co-star Lewis Bloor.
In last night's episode of the show,
Lewis revealed he had kissed Jess
, despite knowing she had been romancing Pete Wicks. Her and Pete's 'Will they? Won't they?' storyline has had us all hooked all series and fans were not impressed to hear Jess had gone behind his back.
Pete slammed Lewis and Jess for disrespecting him and it seems the Twitter'verse were quick to take his side. Check out the reactions...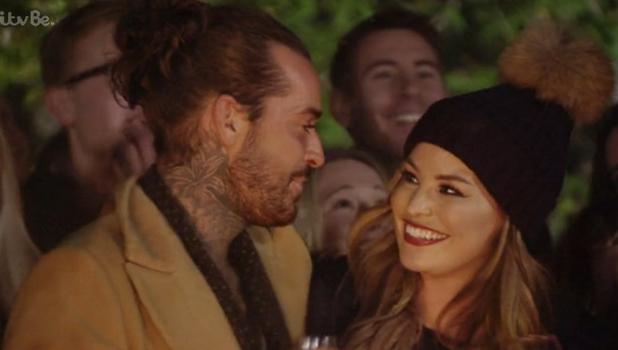 After telling Pete she didn't want a relationship during their vineyard date, Jess later went on to share a drunken kiss with Lewis after a night out at Sheesh.
Hard to believe she would choose to lock lips with someone else, other than Pirate Pete, as he is known, many questioned her decision:
@MissJessWright_ WHYYYYYYY DID YOU DO THAT

— Emma (@emma_loney) November 9, 2015
@carlyeann @MissJessWright_ @P_Wicks01 that must of been for the cameras! She can't of been that stupid surely

— Laura Feeney (@feeno12) November 9, 2015
Can't believe @MissJessWright_ kissed @lewis_bloor .. Why??? When you can kiss @P_Wicks01 #petethepirate #towie

— Amy Ratcliffe (@AmyRatcliiffe) November 9, 2015
Many jumped to Pete's defence, telling the Essex boy there's plenty more fish in the sea:
@P_Wicks01 u r a #TopMan. Neva stop #treating #women with #Respect. @MissJessWright_ n @Lewis_Bloor have shown their #TrueColours. #TOWIE

— Glynis Kuffuor (@GKuffuor) November 9, 2015
@lewis_bloor and @MissJessWright_ are both out of order, don't mess with people's emotions it's not cool, @P_Wicks01 deserves better x

— Clare Marsden (@ClareAmyMarsden) November 9, 2015
@P_Wicks01 you are such a gentleman move on away from @MissJessWright_ and find someone who totally respects you. X

— tina allan (@twittmagic69) November 9, 2015
Is @MissJessWright_ right in the head!!? @lewis_bloor or @P_Wicks01 ermmmm not hard to see who would win for me!! Pete all the way!!

— jackiehackett (@jackiehack) November 9, 2015
@P_Wicks01 has been a proper gent and @MissJessWright_ mugs him off! Not many diamonds like him left in this world!

— Hayley (@Mrsf1982) November 9, 2015
U know he's a true gent if he spends 6 months to wine & dine you AND doesnt hook up with another female. @P_Wicks01 @MissJessWright_ #towie

— Pinky Dee (@Hott_pinky) November 9, 2015
While others stuck up for Jess, insisting her smooch with Lewis must have been "a moment of madness":
Just caught tonight's towie really just think poor @MissJessWright_ is so confused with what she wants right now, can't blame her #BloodyMen

— Claire L Anderson (@claireando) November 9, 2015
@OnlyWayIsEssex @P_Wicks01 @MissJessWright_ I like jess but she needs her head read, pete is a good guy she'll regret that kiss to blooor

— angela brown (@Brown315Brown) November 9, 2015
I hope @P_Wicks01 can forgive @MissJessWright_ everyone makes mistakes #towie

— #LadyTonthebar© (@DiaryOfAMadBW) November 8, 2015
Devastated for @P_Wicks01 just give @MissJessWright_ a chance to speak she is a decent girl. Xx

— Emma Fairclough (@Emmajf13) November 8, 2015
And more are still hoping and praying that the Pete and Jess love train is still going strong #peteandjess4eva:
These two people will always be two of my fave people in the world @P_Wicks01 @MissJessWright_ pic.twitter.com/mDVQ5XbF6U

— Mrs Morrison (@GennaKeepitreal) November 9, 2015
I really want to see @MissJessWright_ and @P_Wicks01 together. :( jess you fool!!! @officialTOWIE

— simply chrissy (@cbradiochrissy) November 9, 2015
@MissJessWright_ beautiful lady...made one daft mistake ur so much better than that! That's life learn from it Hun get with @P_Wicks01 xx

— Anna Storer (@AnnaStorer16) November 9, 2015
Am I the only one that wants @MissJessWright_ & @P_Wicks01 to sort something out and get back on track? #TOWIE

— Lauren-Jane (@lozzajane1994) November 9, 2015
Fans weren't the only ones to have their say on the Pete/Jess/Lewis snogging drama, with the trio's co-stars getting in on the act too.
Essex newcomer
Michael Hassini was Team Pete all the way, telling his followers he thinks Lewis kissing Jess was an "outright liberty"
.
Jake Hall, meanwhile, has still got his fingers crossed that Jess and Pete can make it work
and it seems Pete may do too...
While Jess has kept notably silent on Lewis' bombshell,
Pete has hinted he is willing to forgive her for the kiss
. He tweeted: "Nobody is perfect, we all make mistakes..."
Lewis, however, has insisted his kiss with Jess wasn't anything "sinister"
. Given the opportunity to kiss the brunette beauty he wasn't going to say no, and he claims, he has helped her situation with Pete by proving she doesn't want to be with him.
Something tells us Pete won't see it that way, Lewis!
Who's team are you on? Do you agree with Lewis that Jess will never make a go of things will Pete? Think Pete should cut his losses and move on?Or do you think Jess and Pete would be just dreamy together?
We can't wait to see how this one pans out...
TOWIE continues Wednesday 11 November at 10pm on ITVBe.For exclusive competitions and amazing prizes visit Reveal's Facebook page NOW!