Joan Collins has said she's "still suffering" following the sudden death of sister Jackie in September.
Beloved author
Jackie, 77, passed away following a secret battle with breast cancer
that she'd kept a secret from fans. Joan only learned of her sister's diagnosis three weeks before her death in Los Angeles.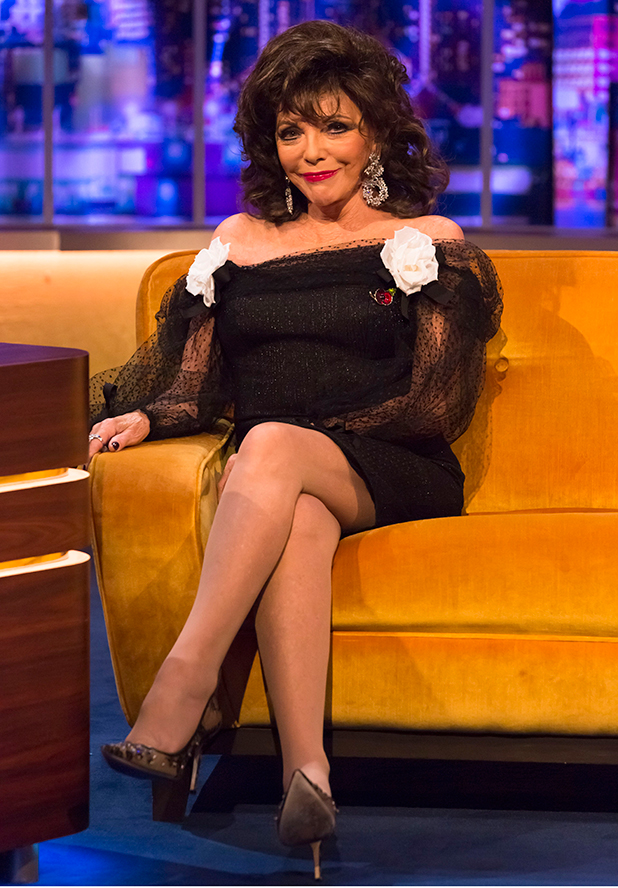 Speaking on
The Jonathan Ross Show
, an emotional Joan said: "She kept it from most of her family, she kept it from our brother who lives in England and she only told her three daughters. She didn't want anybody to know, she didn't want pity.
"She wanted to carry on just as she always had, so since she found out that she had got it she wrote five books, five books in seven years! She went to Australia twice, she went to New York three times, she came over to London for my investiture in March, she came over to London again nine days before she died, she did
Loose Women
, she was phenomenal, a phenomenal woman. Really amazing amazing amazing!"
Joan said that Jackie called her about the diagnosis about three weeks before her death.
"She told me that she had [cancer] but that she was fighting it and she had been taking treatment and we planned going to Hawaii for Christmas with all of our various children and grandchildren and so it was quite a blow, quite a blow. I'm still suffering. It's difficult for me to talk about really."
Jonathan asked the actress whether she wished Jackie had confided in her sooner. "I don't know, Jonathan, it's a process," replied Joan. "I'm still thinking about the whole thing, I find it very hard to actually realise it. The fact that she lived in LA and I was in Europe most of the time means that when I do think about it, I think 'she's in LA, I'll see her soon.'
"I still haven't processed it totally and I think that grief, great grief is something that takes a while to process and you never get over it, you just learn to live with it."
Joan, 82, said that Jackie's family and friends are currently preparing a large celebration of her life to be held in Los Angeles.
"It's a celebration, that's what she wanted. She planned to have 100 of her friends come to her house and celebrate and have a big party. She loved giving parties, she gave great parties, she was a great hostess, people loved her. I've never seen such an outpouring of love and attention when she passed away which was only five weeks ago, six weeks ago. The headlines, she got the cover of People magazine in New York… I've never heard of anybody getting that, an author."
The Jonathan Ross Show
airs Saturday, 7 November at 10.10pm on ITV.
For exclusive competitions and amazing prizes visit Reveal's Facebook page NOW!