Kim Kardashian West gave the photographers an eyeful yesterday when she bent over to fix her clingy skirt.
The pregnant star was seen leaving an office building in Los Angeles on Thursday (5 November) when she appeared to get a bit tangled and twisted in her fitted maxi dress and had to stop to adjust the fabric.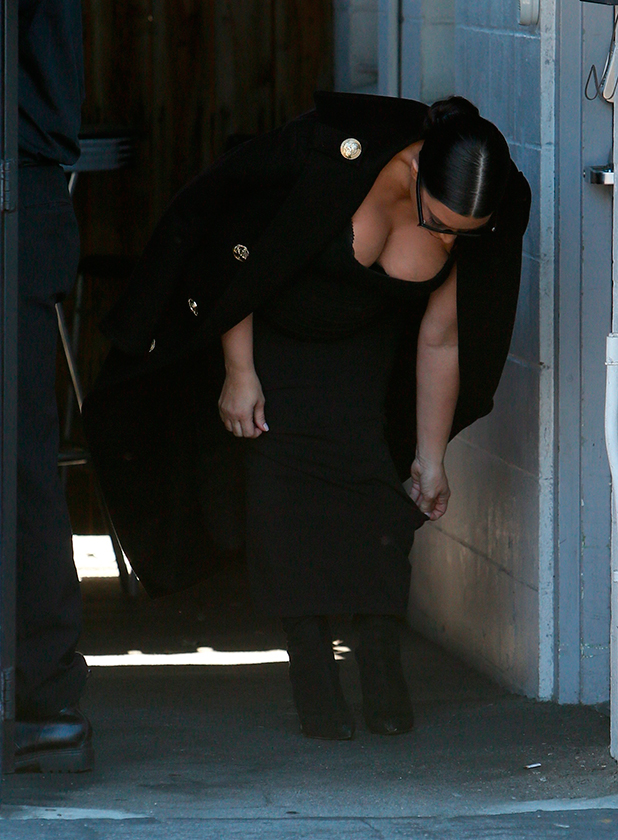 As always, she paired her bodycon with a floor-length coat and boots. Standard Kim K maternity wardrobe!
The
Keeping Up With The Kardashians
star is due to give birth to her second child, a boy, in December.
She's been quite open about the fact she doesn't enjoy pregnancy, saying in October: "I don't enjoy one moment of it and I don't understand people who enjoy it. More power to them but I just don't relate! "I just always feel like I'm not in my own skin. It's hard to explain. I don't feel sexy, either — I feel insecure and most of the time I just feel gross. People just don't tell you all of the gross things that happen during pregnancy or after."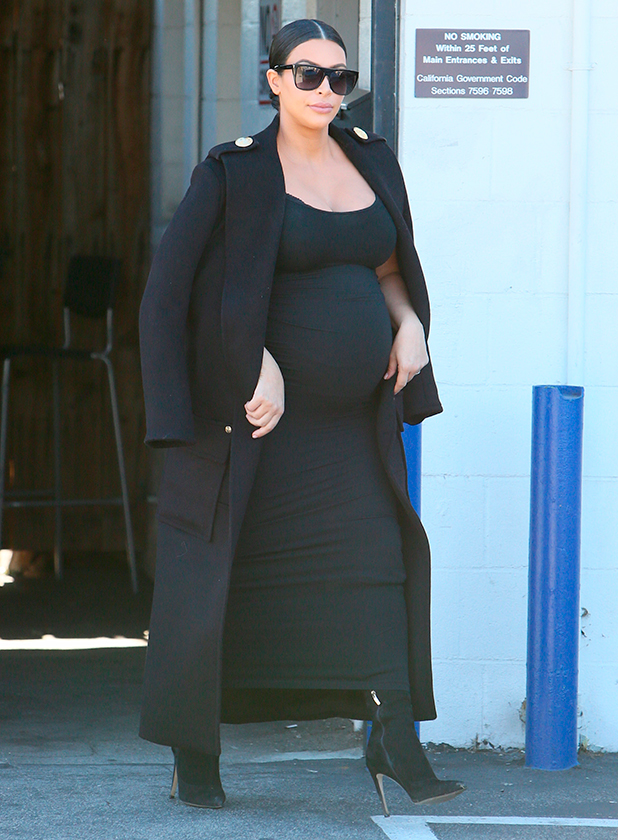 The 35-year-old has also spoken in depth about her struggles to conceive again.
In a recent interview with
C Magazine
, she said: "It was over a year of trying, and I had so many complications. I had this condition called placenta accreta. There were a couple of little operations to fix all that, so that created a little hole in my uterus, which I think made it really tough to get pregnant again. It was a long road. I would go to the doctor in Beverly Hills every day at five in the morning to get tested to see if I was ovulating. I was trying everything: I did acupuncture and got a nutritionist to eat healthier, thinking that was an issue."
As for whether she will try for a third child, she told the mag that may be out of her hands.
"They think I'll have placenta accreta again, so if the placenta grows a little bit deeper than it did last time, then they are prepared to have my uterus removed, which is a little scary for me. I think we're just gonna go day by day, see how overwhelming it is, and see how the delivery goes."
Kim and husband Kanye West are already parents to daughter North, two.
All you need to know about
Kim Kardashian
: