TOWIE's Nicole Bass seemed to keep her cool during last night's row with ex-boyfriend Lewis Bloor… but taking to Twitter during the show, she had her say.
Viewers saw it
kicking off between Nicole and Lewis
on Wednesday evening (4 November). We thought it had been going well between the exes, who had been reconnecting in recent weeks, but that all seemed to end last night.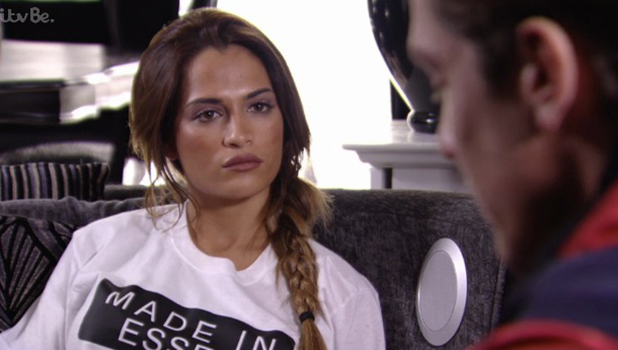 Lewis accused Nicole of dodging his calls and texts and hanging out with an ex-boyfriend. Nicole countered by saying she'd not been ignoring her calls and the reason she didn't reply asap to his last one was because she'd been at a friend's memorial service.
She also said she was entitled to be friends with her ex and talk to him as they were together for eight years. Lewis, however, wasn't convinced and
branded Nicole "scum" and "disrespectful"
before walking off.
Bitch & scum lovely ❤️

— NICOLE BASS (@Nicolecharbass) November 4, 2015
Watching the show play out on ITVBe last night, newbie Nicole reacted to some of what was shown on screen, tweeting things including, "Stupid stupid stupid stupid stupid LIAR!!!!!!!" and "The liessssssssss are beyond me." She also commented: "Oh wait for it then she's with someone else. Please be real!"
Nicole retweeted several supportive comments from fans, who were perhaps saying some of the things she was feeling:
@Nicolecharbass don't go back with him exes are exes for a reason don't look back !

— Lorraine (@craggsy01) November 4, 2015
@Nicolecharbass wouldn't let no man talk to me that way

— vicki (@kandiflos76) November 4, 2015
@Nicolecharbass wow tantrum much!!! No need to be talked to like that!!

— Jacqui Christie (@ChristieJacqui) November 4, 2015
@lewis_bloor @Nicolecharbass no need to be so aggressive and swear at her like that #ungentlemanlike

— Lisa (@Dunsforth1) November 4, 2015
Lewis will 100% regret those words.. @Nicolecharbass is any guy's dream girlfriend

— NATHAN (@NathanJain98) November 4, 2015
Lewis, meanwhile, had his say, tweeting: "Only @nicolecharbass &I know whats really gone on. Who's tried & who's lied. Im comfortable with how i tried to do right by her #wasntenough.
"Anyone who knows me, knows i am a very calm person. For me to loose my temper takes alot. I call a square a square and a circle a circle (sic)."
During their row last night. Nicole had said: "I have spoken to you and picked up the phone so that's a lie. You text me to go for dinner when I told you I was at my friend's memorial. I'm not going to sit there texting and ringing you from there. I got in at half eleven at night and rang you the next day and said, sorry, it was my friend's memorial service. You said that was just an excuse!"
She went on to say: "That's the truth. It's Lewis or no way. I didn't text you straight away and you have turned into the same person you're sitting here being right now and I can't be bothered with it."
Lewis, however, hit back: "That's absolute rubbish. The only reason things haven't progressed with me and you is that you're still seeing your ex-boyfriend... You're a f**king bitch. I have never met anyone so disrespectful in my life. Everything I have tried to do for you, Nicole. You're scum."
TOWIE
airs Wednesdays and Sundays at 10pm on ITVBe.
Ten reasons why we want to be on TOWIE!