Katie Price got into the Halloween spirit early today, wearing her cat costume during an interesting appearance on ITV's Loose Women.
We all know the former glamour model LOVES to dress up - you only have to look at all her photocalls for books, perfumes and other products over the years to know that!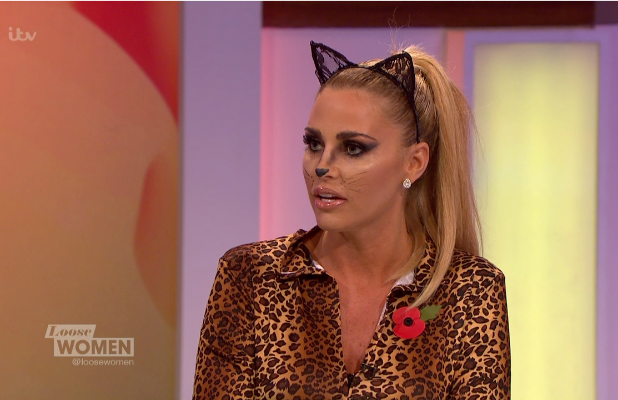 Today's show as all about Halloween (obviously!) which led Katie to detail how she felt her house was haunted... which led to a reference to her cross-dressing ex-husband Alex Reid.
Katie had said: "Our house was haunted. I think most of my houses have been. When I've had mediums around, they've always said it is me and I have this aura around me. The house we're in now, I kept waking up between two and three in the morning hearing noises, we smelled smells. We called someone in and they cleared it, so they said, and we haven't heard anything since."
When asked what the exorcist had looked like, she replied: "I think it was a man dressed as a woman, I wasn't quite sure."
That prompted Andrea McLean to quip: "You do tend to get a lot of that, don't you?"
"I do seem to attract that," agreed Katie.
Katie and cage fighter Alex were married between 2010 and 2011. During their relationship, it was revealed he has an alter-ego named Roxanne. At one of Katie's photocalls, Roxanne appeared alongside other men in Katie's life who had been dressed as women.
Katie Price's transformation:
For exclusive competitions and amazing prizes visit Reveal's Facebook page NOW!