Simon Cowell has admitted that he was "sulky" to get the Overs category on this year's X Factor, but insists he's determined to do whatever it takes to make one of his acts a winner.
Fans know that Simon wasn't too happy to get the Overs during the Six Chair Challenge earlier this series, outright expressing his displeasure on stage - in front of all the contestants.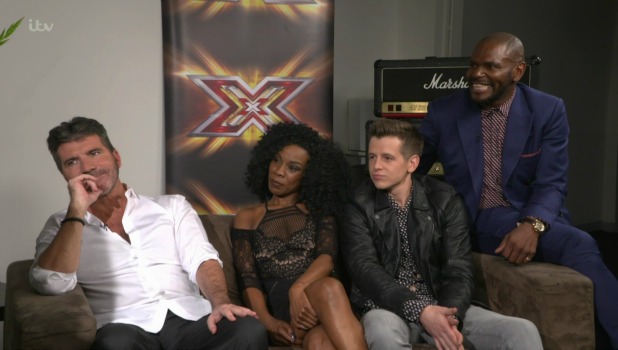 Speaking to ITV's
This Morning
, head judge Simon said: "I was a bit sulky when I got this category, I get sulky… [but] what I have to do now is prove I've got three brilliant singers and we're going to bring a winning attitude next week."
Simon admitted that he found this year's judges' houses a nightmare as although the contestants performed at a pre-recorded session as always, the judges didn't announce who was through to live shows until a live episode broadcast from Wembley.
He said: "[It was] a nightmare, honest, I went home absolutely exhausted."
Discussing his contestants, he added: "The first time I met Bupsi she was the last audition and I was just about to say good bye… she was too nice, and then of course she replied with 'nasty' and I was kind of in the mood for nasty! And Louis [Tomlinson] loved Max and said to me 'this guy's got real talent'...and Anton was a no brainer, I love people that are passionate and that's the thing about Anton - he never stops talking!"
Simon also touched upon this year's
most controversial contestant, Mason Noise, who was dramatically given a second chance
in the competition at judges' houses. Mason didn't make it past Six Chair Challenge but after a contestant who did dropped out, the boys' mentor Nick Grimshaw decided to bring Mason back.
"I said to him he was out of order and made my point, but when we made it up, he was a man," said Simon. "He was apologetic and if Nick backs him, you know, it was the right decision and the public are going to decide."
Simon concluded of this year's show: "It's about finding a star. We've got twelve brilliant contestants, all got a point to prove, I think it's going to be really exciting next week. And the work starts now…"
X Factor
's first live performance show airs tomorrow night.
X Factor's most shocking moments: