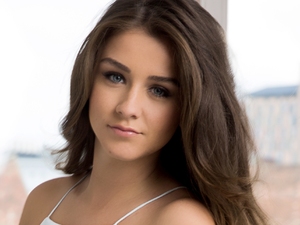 Brooke Vincent exclusively shares her fashion favourites, beauty and style picks and celebrity highlights with Reveal.
Hello everybody,
I hope you're all having a lovely week. This week has been all work and not really much play, which has actually been great. It's coming up to Christmas and it gets very busy for me.
Halloween
Its here, I love Halloween! I love dressing up and I love seeing how everybody else has dressed up. When you are a teenager at Halloween you become 'too cool' for dressing up, that's a thing that kids do. However, as soon as you get that bit older, it's so much fun going out with scary make-up, and for me, nine times out of ten, not getting recognised. The amount of times I've said hello to somebody while dressed up and they have no clue who I am! Last year I was dressed in all black with dark scary make-up. This year, I have no idea what I could be. Driving back from having my make-up done last year with scars and blood all over my face and stopping off for petrol was not the most convenient, so rule number one, be prepared! Ha ha. Over the years I've been a cat, a skeleton and when I was 16 my mum (imagine my face) also produced a matching set of pumpkin outfits to go to her friend's party in. I would be quite happy to go as a deceased Sophie Webster but the way the group chat is going off with suggestions, that just will not cut it this year.
Here I am in various outfits over the years: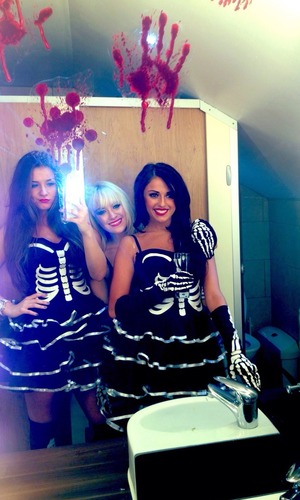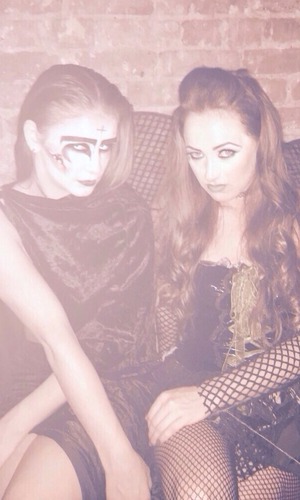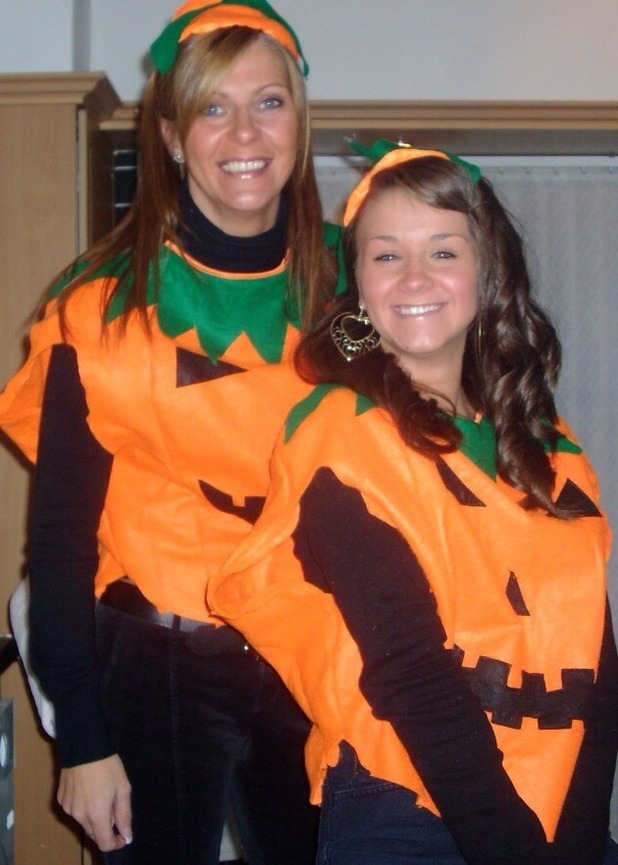 Horse fun
I visited my friend's horse this week, although I was definitely not dressed appropriately in my fluffy coat. I used to ride horses when I was younger so I like revisiting and remembering how much I enjoyed it. Cartier, my friend's horse is far too big and I wouldn't be brave enough to get on her. Not that my friend would trust me anyway, ha ha. I was that scared that I couldn't even feed her without getting scared. I thought she was going to bite my hand off - such a drama queen.
Here we are horsing around: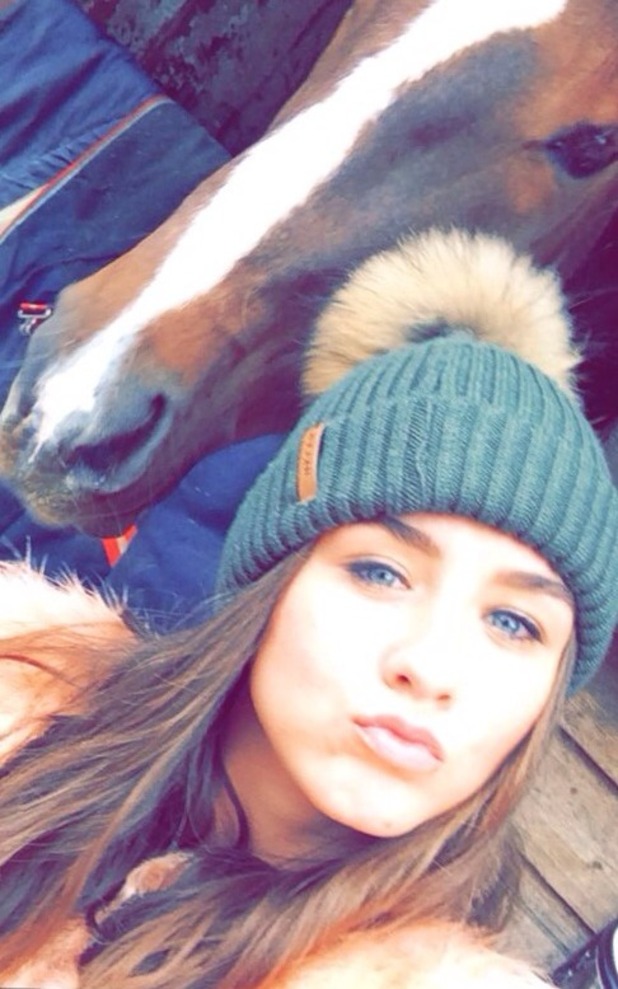 Shopping
I went shopping on Saturday and this is the time of year I get excited about. Coats are everywhere, and so are the woolly jumpers, scarves, boots and all of the sparkly Christmas outfits. Shopping on a Saturday is not wise - my feet were killing and I wore trainers! I made sure that I was comfortable, practicality is key in these situations because you're inside then outside, then trying clothes on as well as taking off then putting your shoes back on. It's just all a big palaver but I pulled through and purchased a new leather coat. I've been telling you all how much I've wanted one of these but to get a genuine leather coat that looks and fits nicely is difficult, and I have finally found one. The downside was that it was £200, which while shopping with your mum is not a good price! My justification was that it's just like paying £5 each time I wear it and after 40 times it will be paid off! My mum wasn't as thrilled with the idea, but here it is and I love it!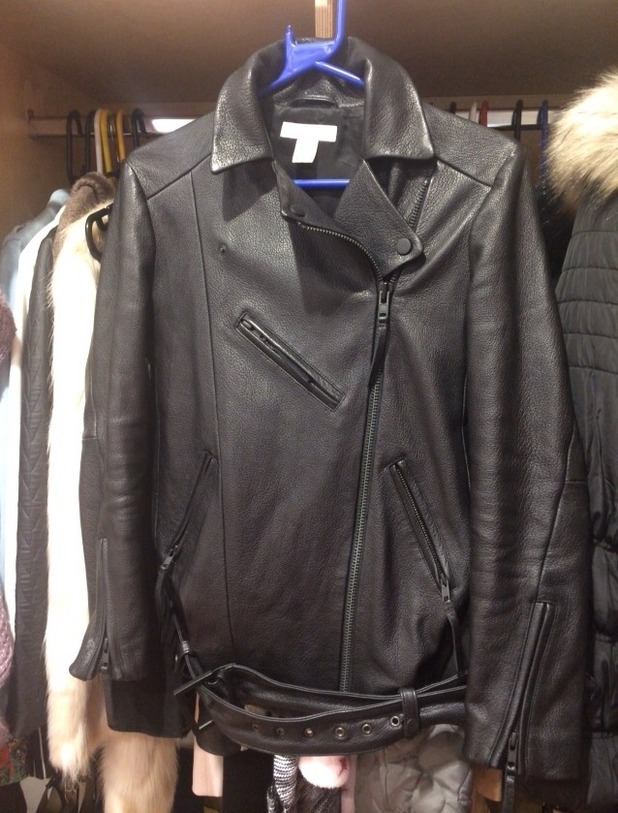 Baby Shower
My friend Steph had a baby shower this weekend. Baby showers were an American thing until recently and now it's a big hit with the mums around the world. It's a time where you receive a present off everyone and play lots of baby-related games. I will definitely be having one when I am due to have a baby. It's a nice way to see all of your friends before you're overwhelmed by mummy duties. I caught up with two of my other friends, Ashley and Megan's little boys too. It was a big blue baby day. Here I am with Steph and my friend Charlotte with baby Teddy: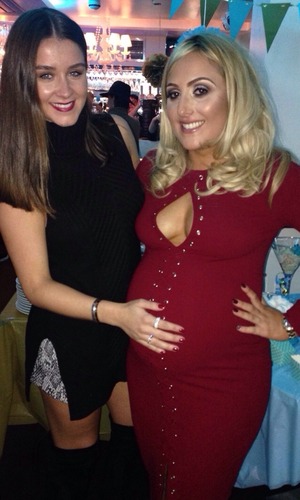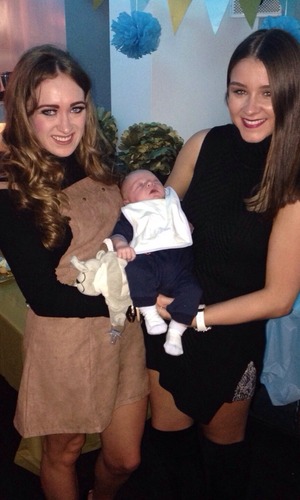 My outfit (not so baby showery) consisted of my black suede over the knee boots, and a long black polo jumper dress with snakeskin shorts underneath and my new leather coat (£5 paid off!).
Birthday shout-out
Happy Birthday to my lovely friend Peter this week. Lots of love.
An important message
Lastly, a reminder that it's Breast Cancer Awareness Month. You may have seen or head about Kristen Hellenga. She set up her charity CoppaFeel! after being turned away by her doctor when she found a lump, suggesting it was nothing under the premise that she is too young. She found out 12 months later that it was cancer and she is now terminal. Young people should be heard. I believe that this is an important message for young girls and the medical profession. You can get breast cancer at any age, and going about your day to day lives you sometimes forget to check. Make sure you do girls, just to be on the safe side.
Have a lovely Halloween and a lovely week. Peace up Reveal.
Bx
Try Reveal's digital edition on iPhone & iPad. Subscribe now & never miss an issue!