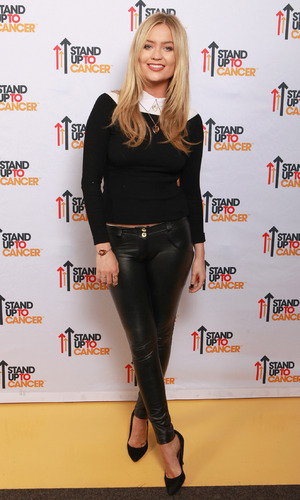 TV presenter Laura Whitmore talked fashion, X Factor and heading out to the jungle for I'm A Celebrity... Get Me Out Of Here! while raising money for Stand Up To Cancer at their mammoth 12-hour YouTube party.
Check out what Laura had to say in this Q&A below:
Have you been watching your pal Caroline Flack on The X Factor?
"Yeah! Caroline and Olly are doing amazingly well. I was actually out with Caroline the other day and she's loving it. I love the line-up too, Grimmy is doing amazingly well and so cool to watch. I saw Cheryl at Ant & Dec's and she is on great form too. They're just doing great. Every time I go out to Australia to film
I'm A Celebrity
that's the only show I tune in my TV to watch. I'll be heading out to Australia to start the new series very soon, and I can't wait to get out there. There's never a lot of sleep going on when you're over there – we stick to UK time as the show is live so we're getting up and working all night and sleeping all day, which is tough when it's glorious weather and you just want to be out in the sun and exploring Australia. I look forward to it every year though, it's the best job."
How bad do the celebs smell when they come out of the jungle?
"So bad. There are so many bad smells, as they have to eat things like the vomiting fruit – as soon as it bursts open you just start retching. I'm sure it doesn't taste particularly good either! You won't get me trying them though."
You're a style icon too - do you ever have any occasions when you can't be bothered to get glammed up?
"All the time! I love living in London as there is such an eclectic mix of clothes and fashions. But as soon as I get in my house, I never want to wear anything restrictive, so it's straight into very elasticated and slouchy clothes! I've got my brothers tracksuit that I wear all the time."
And you've been away recently in the Philippines…
"Yeah I was there on a charity trip and got back a few weeks ago. I've sponsored a little girl out there for the past six years so me and my mum went out to see her. The Philippines suffered badly with the typhoon a couple of years ago too, and we were looking a lot at the projects that they're developing out there."
What was it like being away with your mum?
"We did a lot of travelling, but it was a great experience. We were together for a week, so even all the way over in Asia she was still asking me, 'Are you really wearing that?'"
Why did you want to get involved in the Stand Up To Cancer YouTube party?
"I've worked with Stand up To Cancer before and it's a brilliant campaign, and also I'm from the world of TV and a lot of the people here are from the world of YouTube so it's great that entertainment from all platforms is merging together."
Is there anyone you're Standing Up To Cancer for?
"I think everyone has been affected by cancer somehow whether that's through relatives or friends. Everyone has lost someone, sadly. It's scary how prevalent it is, but talking about it, raising awareness and raising money for this brilliant cause really does make such a big difference. The 12-hour party focused on young people, but cancer affects anyone of every age."
Laura was at the Stand Up To Cancer YouTube Party, a unique 12-hour live-streamed event raising money to accelerate new cancer treatments and tests and ultimately save lives. To watch or find out how to get involved, visit standuptocancer.org.uk/youtube. Stand Up To Cancer is a joint national fundraising campaign from Cancer Research UK and Channel 4.