Girls Aloud star Nadine Coyle has revealed that she and her family fell ill with carbon monoxide poisoning at her home in California a few years ago.
The 'Long Hot Summer' singer spoke about her scare on ITV's
Good Morning Britain
in order to raise awareness of what is known as the 'silent killer' due to its lack of colour or odour.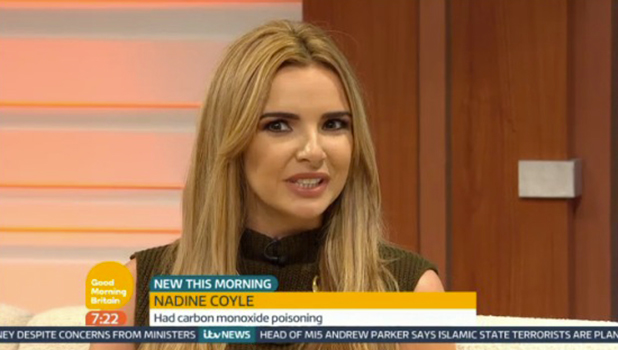 Nadine explained: 'I was renting a house in LA. It started… well, you don't really notice it, you're like 'I'm really tired, is it with all the flying around, is it jet lag, am I getting sick, is it a cold, have we got a bug, why are we so tired all the time?'
"And then you would forget simple things, we couldn't remember the word for table, like, 'What is that? Put it on the...', we couldn't remember what is was. And it was the chest pains, I felt like I couldn't breathe.
"I went to the doctors and I thought there was something seriously wrong, and they checked for everything and they said you're fine, and I said this still doesn't explain why I feel so bad, and then when the blood tests came back, they said it was exposure to high levels of gas, but still he hadn't said it was carbon monoxide."
The Northern Irish singer went on to say she was initially confused by that diagnosis… until an electrician in LA happened by pure chance to check her boiler and discovered a crack in it. "'It just happened to be someone was coming round, it was so lucky. He said, immediately everyone needs to get out of the house."
Nadine said thankfully her daughter Anaiya hadn't been born at that time. She also said it would never have crossed her mind to have a carbon monoxide monitor in her home. She spoke on the programme after a new survey revealed nearly half of homes in the UK did not have a monitor.
"I have three now placed in different places. It saves lives," she concluded. "These are crucially important. It's really scary and really serious."
Nadine is supporting the Carbon Monoxide: Be Alarmed! campaign. You can find out more at
http://www.co-bealarmed.co.uk/
For exclusive competitions and amazing prizes visit Reveal's Facebook page NOW!