Adele has broken the Vevo record for most views in 24 hours.
Well, are we surprised?!
The superstar songstress released the video to brand new single 'Hello' via Vevo on Friday, 23 October and in just 24 hours, it managed to clock up more than 27 million views.
Pretty amazing!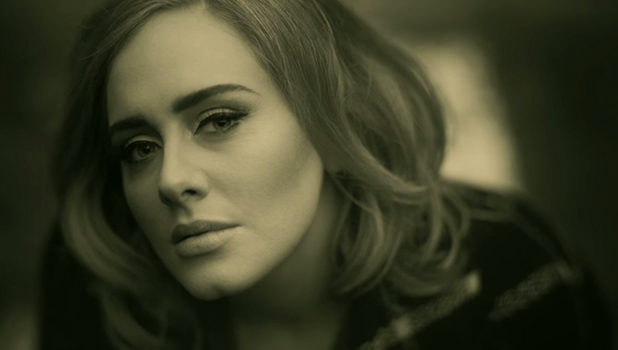 Adele
's 'Hello' received 27.7 million views to push Taylor Swift's star-studded 'Bad Blood' video into second place. It managed 20.1 million views in 24 hours on its release in May.
'Hello' is a beautiful six-minute music video shot in sepia tones and following Adele as she tries to make contact with her past self. We see the past through her eyes, including moments featuring an ex-boyfriend played by
90210
and
The Wire
actor Tristan Wilds.
Funnily enough, one of the major talking points of the video was director Xavier Dolan choosing to use a flip-phone in one scene rather than a fancy new smartphone. Why? It's simple: he doesn't like iPhones!
He told
LA Times
: "It drives me crazy. I could see the GIFs on Twitter. I'm like, 'guys, get over it. It doesn't matter.' But the real explanation is that I never like filming modern phones or cars. They're so implanted in our lives that when you see them in movies you're reminded you're in reality. If you see an iPhone or a Toyota in a movie, they're anti-narrative, they take you out of the story. If I put an iPhone or a modern car in a movie it feels like I'm making a commercial."
'Hello' was filmed on a Quebec farm last month.
The top five record holders on Vevo for most-viewed videos are:
1.
Adele, 'Hello', 27.7m (Oct 2015)
2.
Taylor Swift, 'Bad Blood', 20.1m (May 2015)
3.
Nicki Minaj, 'Anaconda', 19.6m (Aug 2014)
4.
Miley Cyrus, 'Wrecking Ball', 19.3m (Sept 2014)
5.
Shakira ft. Rihanna, 'Can't Remember To Forget You', 17.1m (Jan 2014)