Coronation Street's Catherine Tyldesley is delving into the world of weight loss for a new ITV documentary called Diet Fact, Diet Fiction?
The actress – who plays Eva Price on the ITV soap – went from a size 22 to a size 10 through diet and exercise herself, and is now fronting the new programme, which examines attitudes towards weight and weight loss.
Catherine explained on ITV's
This Morning
that she's worried there is a lack of education when it comes to food and what we put in our mouths.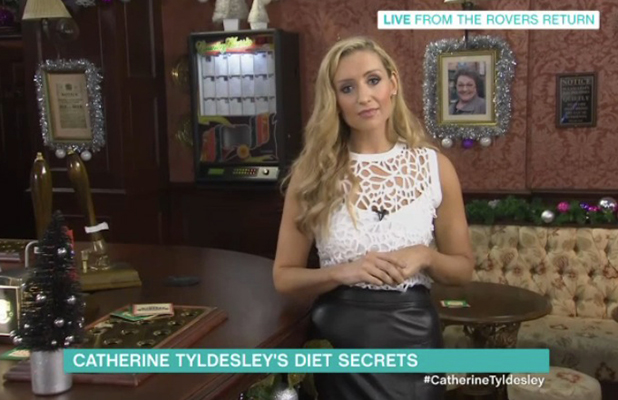 Catherine said: "When I was at school we were taught to make pizza and bread and cakes - we weren't taught about what effects these foods have on our bodies if we were to eat them frequently and that they can lead to diseases such as heart disease and diabetes and we're now in the midst of a diabetes epidemic and I think a lot of it is to do with lack of education.
"For me, it's a no brainer. We are spending millions of pounds on illnesses that come from being overweight. It would be so much cheaper just to educate people correctly from a young age and educate parents. Since becoming a parent fairly recently, it's become even more important to me now to give my family nutrient dense foods. So it is something I'm very passionate about."
In the programme, Catherine talks about her journey from size 22 at her heaviest, to the size 10 she is now. She says she took action after enrolling on a musical theatre course and realising she would become short of breath quickly.
"I realised that my fitness levels were shocking...I would literally get out of breath going up the stairs so I knew that something had to be done," she explains on the show.
"You only get one body so if you fill it full of rubbish then it is going to malfunction, so I think it is getting that balance, you should aim for nutrient dense food and a wide variety of foods and yes, absolutely, treat yourself - on a Saturday night I'll have some chocolate or a meal I really fancy, because at the end of the day, life is too short."
She added: "I'm about a size ten now… For me, I know what I should be eating now. I'm doing a nutrition course now and that's been really helpful, but I do have to work hard, I'm not genetically blessed to be a smaller size - but the older I've got, the less I care about what people say and for me it's purely about being fit and healthy and being around as long as possible for my son."
Diet Fact, Diet Fiction?
airs on
Tonight
, 8pm, ITV.
For exclusive competitions and amazing prizes visit Reveal's Facebook page NOW!