Adele's long-awaited new song 'Hello' has been played on radio for the first time… and, wow, it's a smasher!
After what feels like an
eternity
of waiting, the multi award-winning artist is back with a bang. And we are SO EXCITED!
'Hello' received its first play on Vevo this morning, before Adele started her radio tour which included a stop to BBC Radio 1's Breakfast Show with Nick Grimshaw.
She said: "I feel so sick! I'm so nervous! I obviously want people to like it. I want to surprise people. I don't want to say something for the sake of it."
The song takes the form of a message left by Adele for a former lover, asking him to meet after some time to talk about what happened between them and so she can apologise, but he never picks up the phone.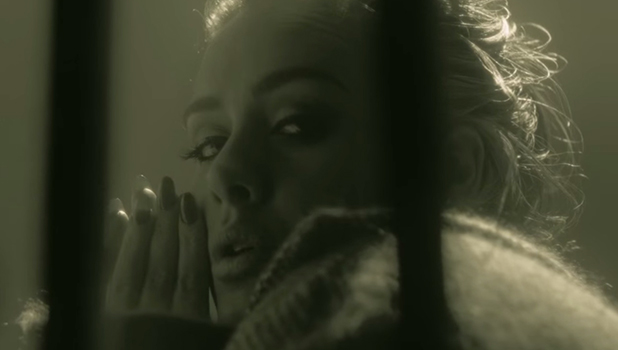 Adele told Grimmy that the new song is reflective of her new album, which she described as a "make-up record, making up for lost time, making up for everything I ever did and never did."
A beautiful music video has also been released via Adele's official website, all arty and dramatic and oh-so-Adele. Oh, and she looks GORGEOUS in it! #eyelinergoals.
Adele's third album,
25
, is released on 20 November.
As you would guess, Adele immediately began trending on Twitter as listeners (and celebs!) shared their first thoughts on the track, with the overwhelming majority giving it a massive thumbs up!
Adele is back Looking insanely beautiful in her video and proving again she has the voice of the century

— fearne cotton (@Fearnecotton) October 23, 2015
well @Adele has done it again. she's utterly destroyed me with a beautiful song and a moving video. well done. #hello #adele

— katy (@katyfaise) October 23, 2015
#Adele is a MONSTER! True artist of our generation. #Hello

— V.BOND (@vladimirbond) October 23, 2015
Having had time to absorb @adele's new track 'Hello', I'd say this is very much Adele at her best. Welcome back #adele

— Geoff Hillyer (@GeoffHillyer) October 23, 2015
Blown away. I'm speechless. This will be on repeat for the rest of my life. #Adele you are amazing! https://t.co/CZW5kFlMTF

— Royce Friou (@roycefriou) October 23, 2015
The world of music is now a better place again. @Adele, welcome back. #Hello is phenomenal! #Adele

— Adam May (@A_May132) October 23, 2015
And our favourite response...
All that money and she's still rocking a flip phone #adele #hello

— Parnell Page (@ParnellPage) October 23, 2015