Kanye West threw Kim Kardashian a pregnant-themed birthday party to celebrate her 35th birthday. That's pretty genius, right?
It must be pretty hard trying to think of what to get the girl who has everything, but Kanye came up trumps when he thought up this a-mazing idea for Kim K's birthday bash.
Naturally the birthday girl has to be centre of attention, and this year, Kim was definitely at the forefront of her celebrations. So much so, that all her party guests had to dress up as her for the occasion, channeling their best pregnant Kim look...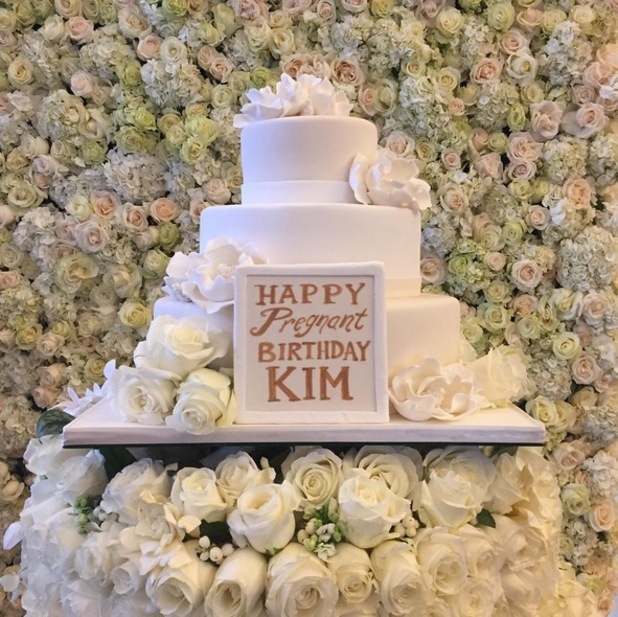 Taking to Instagram, Kim revealed her husband's efforts.
She told fans: "My husband never ceases [to] amaze me! He rented out the entire movie theater to screen the new Steve Jobs (It's sooooo good BTW) and had all of my family & close friends come dressed up as their best pregnant Kim look (fake baby bumps provided on arrival!).
"Not sure if that was to make me feel less huge or just a fun cool theme, but I loved it & had the best time ever, feeling so very comfortable eating churros with a bunch of pregnant women! Just what I needed, the perfect chill yummy food birthday!!!!"
To accompany her message, Kim shared a photo of her impressive birthday cake. Her three-tiered rose design cake featured a plaque that read: "Happy pregnant birthday Kim." And it seems not only did Kanye treat her to the tasty treat, but he also bestowed Kim with another wall of flowers.
Who can forget
the gorgeous display he constructed for their wedding day
or
the floral wall he had made for Kim on Mother's Day
?
It is thought the majority of the Kardashian family were in attendance for Kim's celebrations, with Kris Jenner, Caitlyn Jenner, Kourtney Kardashian, Kylie Jenner and Kendall Jenner all being spotted on arrival.
According to reports,
Khloe Kardashian (who has is rumoured to have quit Keeping Up With The Kardashians)
didn't attend the party. She has been spending time with ex-husband Lamar Odom, as he continues his recovery after being hospitalised in Las Vegas last week.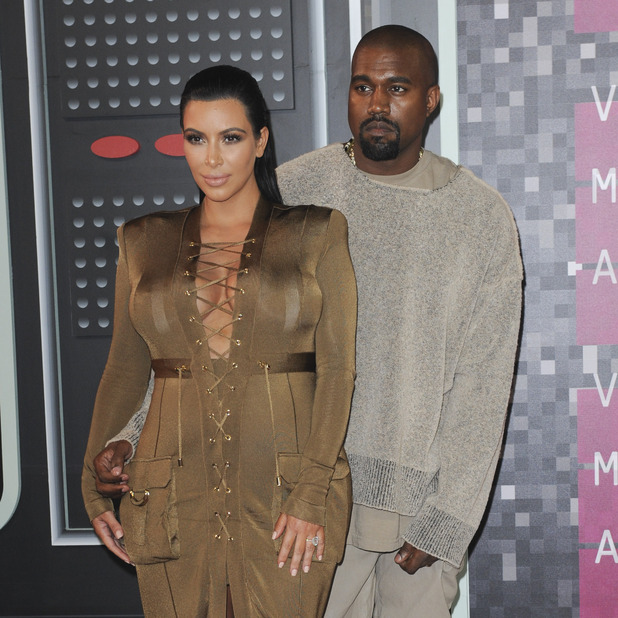 Kim's birthday celebrations come as she prepares to welcome her second child with Kanye.
The reality star announced she is expecting again back in June.
She is set to welcome a baby boy in December, later this year.
Kim and Kanye are already parents to their daughter North, two, and while they have been keen to expand their brood, 35-year-old
Kim has admitted she hates being pregnant.
Writing on her blog, she confessed: "I don't enjoy one moment of it and I don't understand people who enjoy it. More power to them but I just don't relate!"
"I just always feel like I'm not in my own skin," she explained. "It's hard to explain. I don't feel sexy, either — I feel insecure and most of the time I just feel gross. People just don't tell you all of the gross things that happen during pregnancy or after.
"I will say, as much as I really hate the whole feeling of being pregnant, I enjoy the challenge of getting my body back after it's all over. I feel so accomplished when I'm back to where I want to be ... So for all my complaining, it's 100 percent worth it and more!!!"
For exclusive competitions and amazing prizes visit Reveal's Facebook page NOW!