X Factor star Bupsi Brown has already proven she's a fan of Simon Cowell's, but it seems there's a certain One Direction star who may have made quite the impression on the hopeful...
Recently, Bupsi jetted off to the South of France with her fellow Overs to perform for Simon and Louis. Having already given it all she's got, the starlet is now back home and waiting to hear whether her unforgettable auditions so far have bagged her a place in the live shows.
Since her very first audition Bupsi has had us hooked. From her proving to Simon she can get down and nasty to her pulling out the splits and busting out the running man, she has already become a show favourite. But does she have what it takes to join Simon in the final 12?
Reveal
caught up with Bupsi and she spilled all on her time at Judges' Houses and her
X Factor
experience so far. We found out what it is she loves about Mr Cowell so much, why 1D's Louis could be giving him a run for his money and who she thinks is her biggest competition when it comes to securing a spot in the next round of the competition...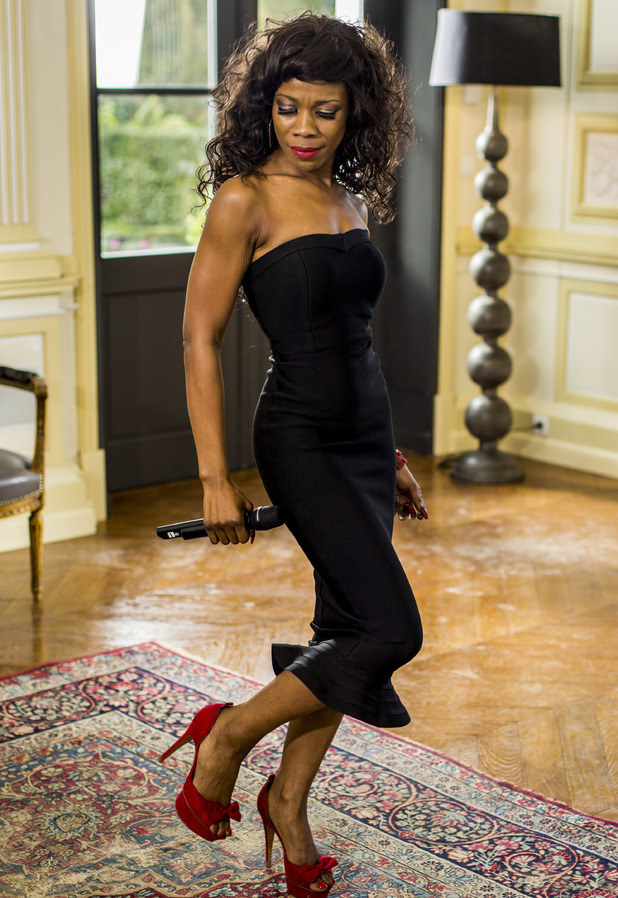 Hi Bupsi! Tell us, what was it like going to Judges' Houses?
It was really exciting. It's just sunk in that we got to see Simon in his white t-shirt and we're his team. He's our boss now. In the back of our minds, we all knew we had to perform for our lives, but we enjoyed it. You did look around and think she's good, he's fantastic.
Was it nerve-racking to see everyone perform?
No it wasn't nerve-racking. I thought they aren't me, I can only do me and actually they can't do what I do, I can't do what they do. I was like, 'tell your story Bupsi and work it. Just don't go on the table again, do something different!'
Who would you say is your biggest competition in the Overs category?
That question comes up a lot and for me, it depends what flavour you like. You might be a Kentucky girl, you might be a Nandos girl, you might be a Pizza Hut girl – it depends what floats your boat. For me, I just think the X Factor is about the X Factor. You've got Fleur East - she sung, danced and was a show girl. She had the whole lot. She's a really good example to look at and it's inspiring. I feel like I'm from Fleur's village. I've got a lot to learn still even at my age, I've got the energy, my bones work well, I can give those 17-year-olds a run for their money. I don't see any particular person as competition, it's early days. I want to see what else they can do. I'm a show girl, it's live shows next. Let's put one and one together... it equals, Bupsi.
Fingers crossed you've impressed Simon. Were you pleased to get him as your mentor?
Yes! I did want Simon, he's the one that I know the most, I've grown up with him, seen him through the years… it's Uncle Simon. It's not that I don't like Rita, Cheryl and Nick, they've all got weight, but I got Simon and I'm really pleased with that. Who gets to see his t-shirt up front and check out the quality. I've only ever seen him with a white t-shirt, I'm going to have to sort him out!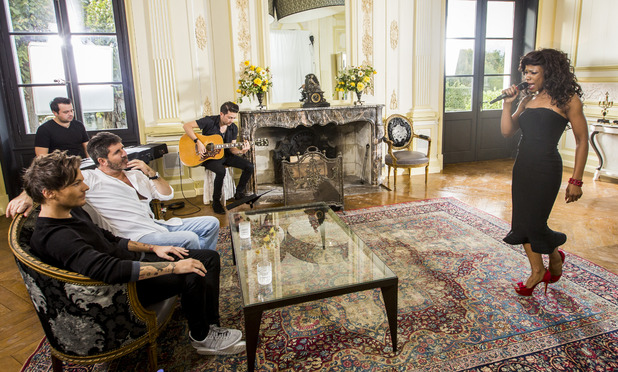 Did he give you any advice before you performed for him in the South of France?
He basically said: You may think that this person or that person is already through, but it might not work that way. It was almost like it doesn't matter what you've done, you might have fought tooth and nail, but you have to smash it today. You need to bring something different. So, you look down the line and you think I love you all, but I'm going in. You're never going to believe it, though, I got a cold. My nose was blocked, nothing was working… thank god for paracetamol girl. Paracetamol, ibruprofen and Vicks, I slapped it all on and I said a little prayer like Aretha Franklin and my voice just worked for me. I was ready to show my boss why he picked me and why I should stay.
You had to impress One Direction's Louis Tomlinson too. What was he like?
I tell you what, Simon had some competition that day. Louis he has got some serious eye contact, you could just feel the masculinity dripping off of him. It was so intense, he was looking into you and I thought, 'ooh you're making me feel a bit nervous now'. He was just such a manly man, so friendly and he's northern, so that was nice!
He's obviously been through the process before, did you manage to get any tips from him?
Not really, but I did speak to him. I was so glad that it was him, not just because he's northern, but he's been in these shoes and he knows what it's like. He's been here, done it, worn the t-shirt – not Simon's t-shirt – and he knows how it feels. It was an advantage because you've got somebody there who gets it. He was perfect, I'm glad Simon brought him in. He was a pleasure.
And you'll be finding out the results this weekend, how are you feeling?
I didn't actually realise until yesterday that it was this week. You don't know what day it is most of the time, but it hit me in the stomach and I thought, 'this is getting serious'. It's not going to be brutal like the Six Chair Challenge, you've just got to respect everybody and say well done. You've got to feel for those people who don't make it, I could be one of them. There is that thing in the back of my mind that I could be going home, but I'm just praying that it's not little me from Leeds with my little legs. I want the chance to get there and do the business that I was born to do.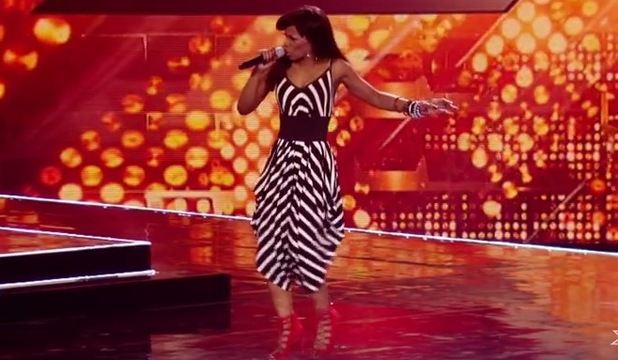 While you wait, we've just seen your Six Chair Challenge audition. How was that for you?
I've only just recovered. I was really scared to watch it back, I did shed a tear, it was heartbreaking. It was brutal, it was really harsh, the crowd were going in.
You got such a positive reaction, though?
I can't remember them liking me. My mum asked me what the crowd was like and I said 'Mum I don't remember, I can't remember if they booed me'. I didn't know if they were pleased I got a seat, I can't remember anything, but I gave it my all. All I wanted was a comfy cushion to lay down with after that! I think Simon made the right decisions in the people that he picked. Max Stone, I know him, I love him, he's a great guy and Anton [Stephans] – those two are my absolute favourites. It's a good six.
How do you feel your performance went?
The moment I know I've got to go on stage something in my brain just goes with it. Every time I go on stage I feel calm, it doesn't frighten me. You've got to bring it otherwise you're going home and I didn't want that. I want to stay in this competition, I want to keep climbing up the ladder and improving. I know what I can do and I know my capabilities, but there is still a lot that I can be learning. I feel that people haven't really felt my full potential with my vocal yet. I've had the dreaded illness, it's been gutting. Biggest moment of your life and you've not been well, I didn't even want to mention it because I don't like a pity party. For me, it's a bit upsetting that my 100 percent wasn't there, but I did the best I could do. I really wanted my chair, I needed it.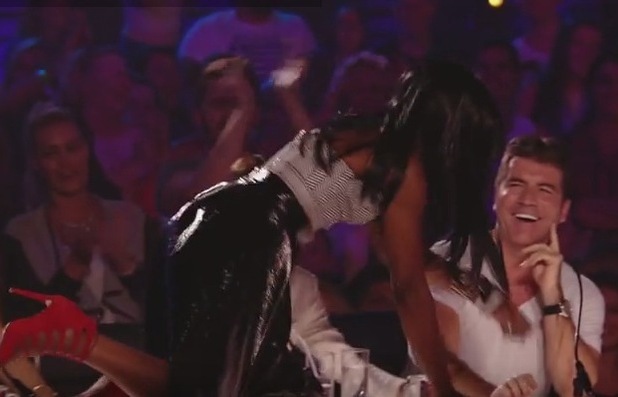 You made quite the impression from your very first audition. We love that you hit back at Simon...
When Simon turned round to me and said you're too nice I thought, I am, but Simon there is another side to me that I don't know you're ready for. Trust me, I can be that girl, I just wanted the opportunity to show him that and I got it. In a way, a fire built up in me and I was fighting. I had no clue I was going to go on that table – health and safety, hello! - I'd never been in Wembley before, I jumped off that speaker, I could have broken my ankle. It was high risk! I could have fallen off. I did the splits and to be honest, I could do with acupuncture now, I've got bit of an injury from it, I didn't warm up.
Will we be seeing the splits again if you make it to live shows?
I think we just need to wind down a little bit first, get a few needles in me, a bit of acupuncture, then we'll be back in business. I'm a spontaneous person and I'm all about entertainment. You've got to give the people a show. I don't know what I was thinking, I'll admit it I did get Cowell'ed. Simon did push me and I'm glad he did. It was either go home with you head hung in shame or girl, you nail this, so I smashed the teeth and gums out of it. I think he remembered me!
For exclusive competitions and amazing prizes visit Reveal's Facebook page NOW!