Jessica Wright asks Pete Wicks out on a date in tonight's episode of TOWIE - and also apologises for giving him mixed signals.
In the last episode, Pete and Jess went on a double date with Ferne McCann and Liam Blackwell to a vineyard.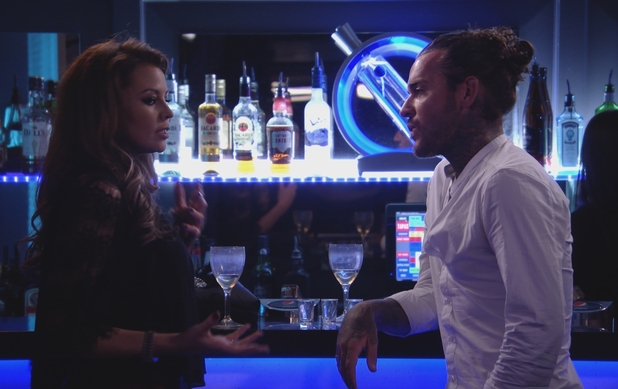 Pete told Liam that he was unsure if he and Jess would develop any further, but later said in front of the group that he "has a lot of respect" for Jess and declared: "I fancy the pants off her."
However,
Jess appeared to reject Pete's declaration
, telling him she isn't in a rush to get into a relationship. "I just feel like I'm not ready to completely commit," she said.
Despite this, after the episode, Jess kept hopes of a romance alive when she tweeted: "Just wait for next ep [smiley face emoji] I have a lot of time for this one @P_Wicks01 & stay tuned."
And tonight, viewers will see Jess apologise for her recent comments, which Pete admits was a blow to hear.
She also asks him out on a date - and he accepts, with a challenge!
Here's the exchange:
Jess: "First and foremost I just want to say a massive apology. I feel like I absolutely owe you one for the way I behaved at the vineyard. I don't know why I came out with what I did. It was completely uncalled for and I've said you weren't even asking me for a relationship, so why that came out of my mouth I don't know."
Pete: "No one else was even saying anything about it, and to be honest with you, I was pretty f**ked off after the other night. I obviously like you, I've told you that, and I'll say that to anyone that asks me. I don't play games and I'm as open and as honest as they come. I'm just the sort of geezer that's been brought up in a way where men should treat women in a certain way. I've only ever been in one serious relationship. I've spent the majority of time single because I don't jump in relationships with people, and you knew that."
Jess: "I have given you mixed signals and I do think there's more between us than just friends. I personally would like to go out with you on my own and actually enjoy your company and see what happens."
Pete: "So Jess, are you asking me out on a date, is that what you're saying?"
Jess: "Maybe I am, but I completely understand if you are not up for that."
Pete: "I'll tell you what, I'll do you a deal. We'll go out, if you organise it?"
Jess: "Alright, okay I'm up for the challenge. I owe you that at least, I owe it to us."
Ah, please get together!
TOWIE airs tonight at 10pm on ITVBe.
Try Reveal's digital edition on iPhone & iPad. Subscribe now & never miss an issue!