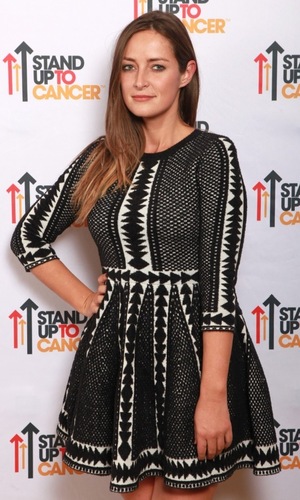 Former Made In Chelsea star Fran Newman-Young talked about her dream TV gig and her experience on MIC while raising money for Stand Up To Cancer at their mammoth 12-hour YouTube party.
Check out what the reality star had to say in this Q&A below:
You're doing a lot of presenting work now. What's your dream gig?
"I'd love to have a career like Caroline Flack. She's so good at what she does, she's hilarious, and is one of those girls that everyone likes. I love music, fashion and beauty so doing something that involves all of those would be my dream."
Was Made In Chelsea a helping hand into presenting?
"It's a double edge sword. It gives you a good platform and a following. I cook a lot and have a blog and would love to do more of that. I'm quite healthy but only as I cook everything from scratch, I don't ban any foods."
Were you quite critical of your looks or how you were dressed when you watched yourself back on TV when you were on MIC?
"Yeah, it's impossible not to be critical of yourself, especially when you're surrounded by people like Rosie Fortescue and Victoria Baker-Harber - they are so well put together so it's impossible not to compare yourself to these people who look amazing all the time. But I was working full time and sometimes you just don't have time to pick out the perfect outfit and have a blow dry."
Do you still get involved in the Chelsea drama?
"Yeah and I still see the girls all the time. I was at Binky Felstead's clothing launch the other day and that was such a fun night. I try not to get so involved in the drama, but it's good to meet for a gossip."
Do you ever regret having gone on the show?
"I don't regret it, but having cameras catching so many areas of your life is exhausting. I couldn't do it anymore, especially as I was trying to work on different projects at the same time. You have to throw your whole life into that show, and I couldn't do that, but it was a lot of fun."
Will you be watching the new series?
"Of course! All of my friends are still in it, and I can't wait to see Ollie Locke back in it, he is so fun and I'm sure he'll be as outrageous as usual."
Why did you want to get involved in the Stand Up To Cancer YouTube party?
"I love Stand Up To Cancer, last year Cheska Hull and I got involved making and selling pizzas on TV. But cancer is something that affects everyone and is very close to home for me, so anything that raises some money and some awareness is well worth getting behind. I've lost so many people close to me from cancer, so I've got a lot of people in my mind today. It's so important that people know the first signs of cancer."
Fran Newman-Young was at the Stand Up To Cancer YouTube Party, a unique 12-hour live-streamed event raising money to accelerate new cancer treatments and tests and ultimately save lives. To watch or find out how to get involved, visit standuptocancer.org.uk/youtube. Stand Up To Cancer is a joint national fundraising campaign from Cancer Research UK and Channel 4.