Khloe Kardashian is reportedly feeling "overwhelmed" by the responsibility of having to make medical decisions for ex-husband Lamar Odom.
The couple split in 2013 and signed divorce papers earlier this year, but because a judge hasn't finalised the paperwork, they are legally still married and Khloe is his next of kin.
Lamar has been unresponsive since Tuesday, when he was discovered lying face down in the VIP suite of a Nevada brothel, and is currently being treated at a Las Vegas hospital.
A source told
People
: "She never dreamed that she'd have these responsibilities, and it's just so overwhelming and unexpected. She had been thinking of him as an ex, so to find out that, 'No, you have to do this.' Well that's really hard for her.
"She realises that these are literally decisions of life and death, and she wasn't prepared to take on this responsibility."
Khloe has been by Lamar's bedside since Tuesday night. Family members including mum Kris Jenner and sister Kim Kardashian flew out to support her but have now returned to LA.
No official statement has been released about Lamar's condition but reports in the US allege doctors are treating it as a drug overdose. It's been claimed he has organ failure and is on dialysis to help his kidneys.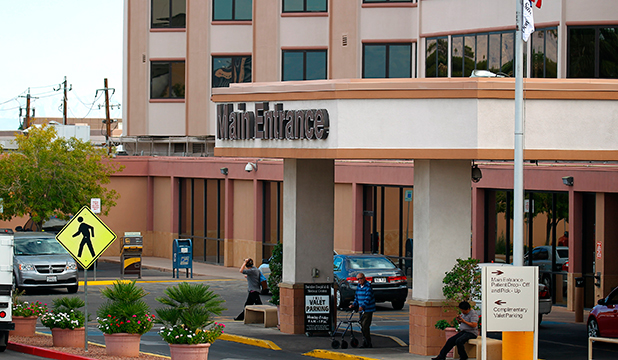 TMZ alleges that Lamar has a 50/50 chance of recovering and that four of his organs are failing. He is believed to have been put on dialysis to help his kidneys. A source has told E! News: "[There was] loss of oxygen but also possible stroke. So, likely there's brain damage, but they're not sure how much." The insider says that brain damage does not mean brain dead. Multiple outlets report that Lamar remains unresponsive in hospital.
On Thursday night, a report by
Entertainment Tonight
claims Lamar "briefly fluttered open his eyes and at one point Kim Kardashian believed he squeezed her hand." It's been described as encouraging. But it's also pointed out he's been placed on dialysis as his kidneys are beginning to fail.
According to
TMZ
, the athlete's condition has been "deteriorating" and doctors have warned the family the longer he remains in his current state the less likely a full recovery is. Their source claims it was actually Khloe's hand that Lamar squeezed but suggest it could have been an involuntary movement.
For exclusive competitions and amazing prizes visit Reveal's Facebook page NOW!