Katie Price has said she could "destroy" ex-husband Alex Reid with pictures and videos she has in her possession.
The mother-of-five appeared on ITV's
This Morning
today to take part in a feature on whether it's ever right to air your dirty laundry in public.
She was married to Alex from 2010 to 2011.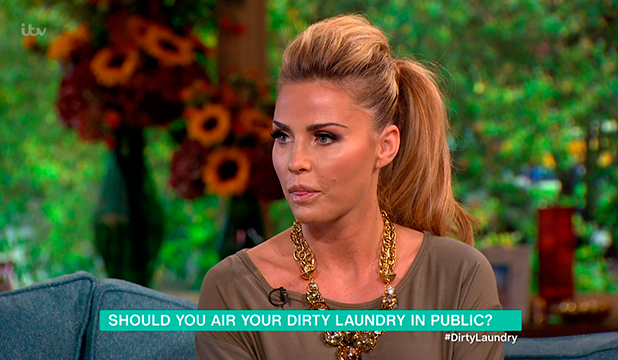 Katie spoke about Alex on today's show, when shown tweets she had previously sent about him including one that read: "Wish Alex Reid would stop selling stories about me! I'm sure if people saw pic and vid clips of him as Roxanne it's enough to turn anyone off."
Roxanne is cross dresser Alex's alter ego.
Katie explained today: "I could have embarrassed him like anything and destroyed him with what [videos and pictures] I've got, but I haven't because I'm not that kind of person. But that [Twitter post] was a hint [telling him] 'stop what you're doing'."
The former glamour model also spoke about airing her own dirty laundry on Twitter when it came to husband Kieran Hayler. She tweeted last year that the couple were divorcing after she found he had been cheating.
She later took him back.
"Sometimes I do say it on social media because it's my only right of reply, but not everyone has to [do that]... but with the break up thing. Why did I do it? I don't know. I'm human at the end of the day and I'm that hurt it's like 'what do I do?' and it's like 'right, that's it'. [The media] write what they like and people judge me on that, and honestly, if I look at what's written about me, I would look at me and think 'oh my God, she's a freak, she's not normal'..."
Katie continued to say: "When I caught them on holiday, we were stuck on holiday for another two weeks, when I actually caught them kissing I didn't tweet anything then.
The only reason I tweeted was because I had the lie detector people in my lounge and he failed it. And within two minutes I was like 'that's it, we're divorcing' because in my head, once I say something out there I stick to it. It's that kind of thing. I don't regret it at all, if anything I wished I could've said more."
But now the couple are back together and stronger than ever, according to Katie. "I'm so pleased I stayed with him… and you can work through things, I am a prime example that if you stick to it you can work through it." She added, "Some people do deserve a chance."
Katie Price's transformation:
For exclusive competitions and amazing prizes visit Reveal's Facebook page NOW!