Taylor Swift has addressed that whole 'was her song Bad Blood written about Katy Perry' speculation by, well, not really confirming yes or no!
The singer-songwriter released 'Bad Blood' back in May and ever since rumours have been swirling that she penned it about fellow popstar Katy.
In the new issue of
GQ
, superstar Taylor addressed the speculation, when asked by the reporter: "By not saying who you're writing about, aren't you allowing public consensus to dictate the meaning of your work? If everyone assumes that 'Bad Blood' is about a specific person, aren't you allowing the culture to create a fact about your life?
Taylor replied: "You're in an interview, and the writer says, 'Who is that song about? That sounds like a really intense moment from your life.' And you sit there, and you know you're on good terms with your ex-boyfriend, and you don't want him - or his family - to think you're firing shots at him. So you say, 'That was about losing a friend.' And that's basically all you say.
"But then people cryptically tweet about what you meant. I never said anything that would point a finger in the specific direction of one specific person, and I can sleep at night knowing that. I knew the song would be assigned to a person, and the easiest mark was someone who I didn't want to be labelled with this song. It was not a song about heartbreak. It was about the loss of friendship."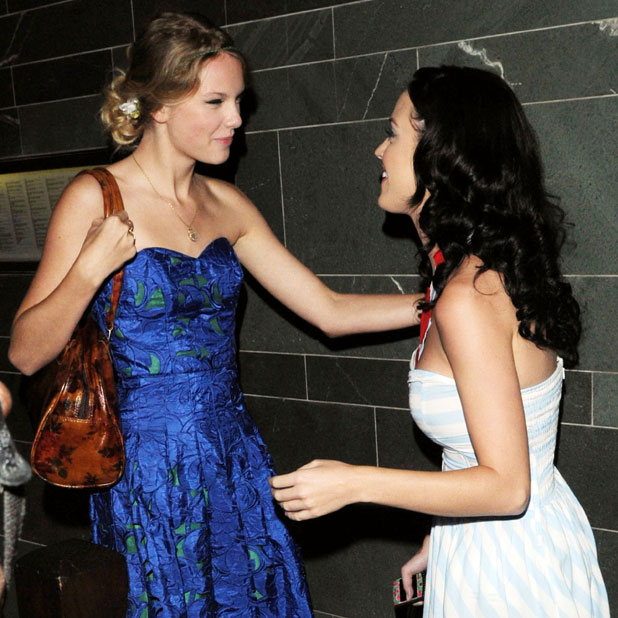 Speculation that the song was about Katy arose thanks to an interview Taylor gave to Rolling Stone in which she said the track was about a fellow popstar who she felt tried to sabotage her tour.
"For years, I was never sure if we were friends or not," she told the mag. "She would come up to me at awards shows and say something and walk away, and I would think, 'Are we friends, or did she just give me the harshest insult of my life?' [Then] she did something so horrible. I was like, 'Oh, we're just straight-up enemies.' And it wasn't even about a guy!
"It had to do with business. She basically tried to sabotage an entire arena tour. She tried to hire a bunch of people out from under me. And I'm surprisingly non-confrontational – you would not believe how much I hate conflict. So now I have to avoid her. It's awkward, and I don't like it."
Investigative fans and reporters were quick to point out several dancers had left Taylor's tour to join Katy's. And Katy later tweeted: "Watch out for the Regina George in sheep's clothing..."
For exclusive competitions and amazing prizes visit Reveal's Facebook page NOW!