Kendall Jenner appears to have broken the Kardashian social media silence on Lamar Odom with a simple tweet saying: "Please don't go."
The 19-year-old model was in China attending Shanghai Fashion Week when her
former brother-in-law was found unresponsive at a brothel in Nevada
on Tuesday, 13 October.
Paramedics were called and former NBA star Lamar was taken to hospital in Las Vegas, where his condition is unknown.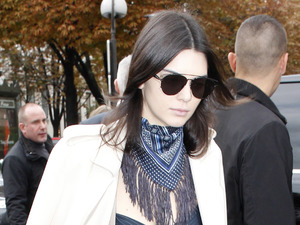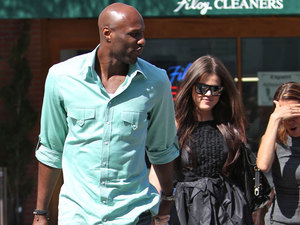 Lamar was married to Kendall's big sister Khloe from 2009 until 2013.
Kendall is the only member of the Kardashian-Jenner clan to take to social media since news of Lamar's hospitalisation broke. She tweeted the simple but poignant words, 'Please don't go', on Wednesday afternoon. Her message has been retweeted more than 11,000 times so far, with many fans replying to send Kendall and the whole family their best wishes.
please don't go.

— Kendall Jenner (@KendallJenner) October 14, 2015
No official statement has been released by the Kardashian-Jenner family, but it's believed that Khloe, Kim and Kris Jenner are all by Lamar's bedside, while Rob Kardashian is en route to Las Vegas.
A source told
People
: "Everyone has dropped everything to get there. There are a lot of calls and texts going back and forth as everyone is figuring out how they can help and be there for each other. They are asking their close friends to pray for Lamar, for healing and strength.
"Everyone is very upset. They know that Lamar has his demons, but the fact is that he was a very important part of Khloé's life for so long, and she's very upset about this. They all are."
The owner of the brothel has said Lamar arrived on Saturday and seemed "happy and healthy". He told
Us Weekly
: "There was no sign of drugs at all, except he was taking herbal viagra. He said he was just trying to get away from people so he could have some time to himself without the pressures of being who he is."
A
statement issued by Lamar's rep to Us Weekly
today said: "Family and friends are extremely concerned for Lamar. Please don't listen to the false information being circulated unofficially. Please respect the family's privacy during this difficult time."
While Lamar and Khloe split in 2013, their divorce papers were not finalised until earlier this year and they had remained in contact.
On the most-recent episode of
Keeping Up With The Kardashians
, viewers saw Khloe chatting on the phone with her former husband, much to the dismay of sister Kim who worried about their continued contact.