Judge Geordie star Vicky Pattison has hit back at critics commenting on her Instagram posts, insisting she does not "over filter" her photos.
Scrolling through the 27-year-old's feed, it's awash with oh-so-glamorous selfies and flawless gym selfies that often make us wonder how Vicky looks so darn good.
But while we're desperately trying to find out the entire contents of her make-up bag, others have slammed the starlet for touching up her snaps before posting...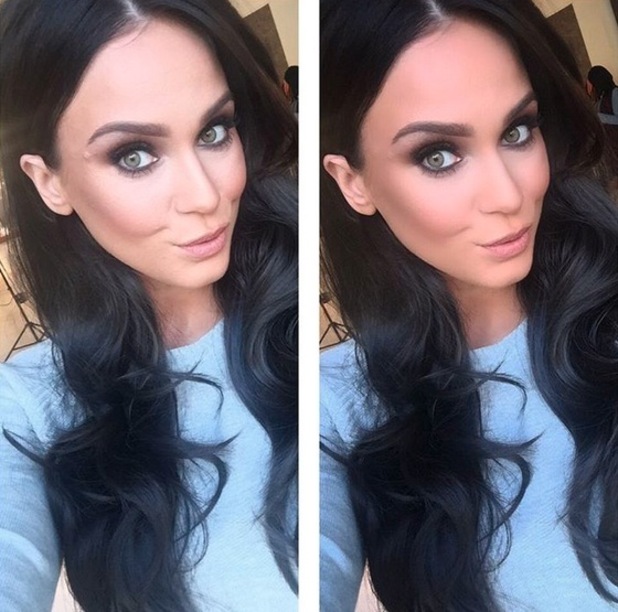 After Instagram users saw a certain selfie Vicky had posted yesterday, many were quick to comment, accusing the reality star of being over zealous with her editing.
One user wrote: "So much airbrush, no need." While another said: "So much editing."
Another then questioned: "Why so much photoshop?"
On reading such comments our Vicks had enough and couldn't resist hitting back at her critics, in order to give her glam squad and her war paint the credit it deserves.
Sharing the same selfie, Vicky posted the untouched photo, alongside the other which she has stuck a filter on. After all, who doesn't love a Insta filter to give your snap that extra sass?
She wrote alongside her post: "I am a little bit sick of people saying I over edit, FaceTune or filter my images!!!! Here is a before and after of a selfie I took yesterday!!
"Yes, I like a cheeky bit of tinkering but who doesn't and is it really harming anyone?! You can clearly see from the untouched picture on the left that I do very little!
"So why don't all you facetune warriors calm your passions and find something worthwhile to do with your time rather than whinging on my b*stard instagram wall!! Jeeeezzzzzz...."
Outspoken Vicks isn't afraid to vent her frustrations and this isn't the first time she has shared what she's really thinking this week.
Vicky has found herself hitting the headlines recently thanks to her split with Stephen Bear. After much speculation,
Ex On The Beach star Bear finally confirmed he and Vicky had split,
but surprised fans by suggesting it was because the Geordie favourite had cheated.
Throughout the speculation,
the pair's break up had been pinned to Bear's flirty behaviour on the MTV dating show
, not Vicky.
Bear told fans he was "single" and back out to play, while sharing a meme that had "Liars and Cheaters" written across it. He also shared another that suggested women can cheat just like men, telling fans he was "done" with his and Vicky's romance. He added: "No going back."
Now, hitting back at her ex-beau,
Vicky shared a telling quote to her Instagram feed
. It read: "Always be careful of what you hear about a woman. Rumours either come from a man that can't have her or a woman who can't compete with her."
Alongside it she simply said: "Fitting."
She sure knows how to shut down her haters!
For exclusive competitions and amazing prizes visit Reveal's Facebook page NOW!