Justin Bieber's lawyer have threatened legal proceedings over *those* naked pictures.
A cease and desist letter has been sent to one outlet that published the images, showing the 21-year-old singer
completely naked as he enjoyed a holiday in Bora Bora
earlier this year.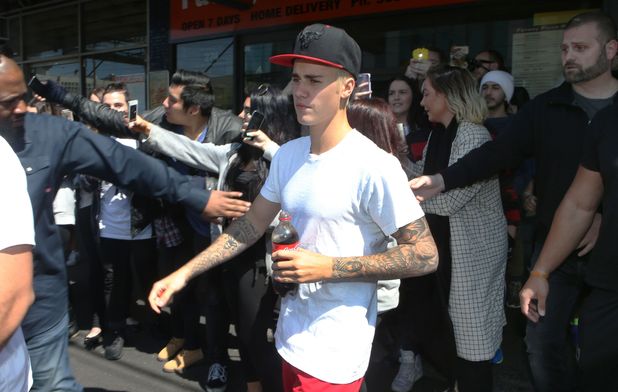 According to
The Hollywood Reporter
, the letter reads: "We recently became informed that your company has obtained and is distributing unauthorised photographs of our client including images showing him without clothing."
The lawyers reportedly threaten to sue if the pictures are not removed. Justin's team allege infringement of privacy and publicity rights, as well as infringement of his trademarks.
The images were taken while Justin was on holiday with rumoured girlfriend, British model Jayde Pierce and sparked a fierce debate online between those loving the images and those saying JB deserved privacy.
Here's a few examples:
OH. MY. GOD. I have just seen Justin Bieber completely naked and it was incredible. Thank you Jesus. Praise the Lord. Hallelujah

— Megan Phillips (@meg_phillips94) October 7, 2015
Thank you justin drew bieber for going out naked. Its really appreciated.

— •you just never knew (@Smolderszayn) October 7, 2015
ok no offence but those naked pics of justin bieber are a disgusting invasion of privacy

— me, but as a ghost (@LegendOfSpook) October 7, 2015
Just because Justin is Justin Bieber, doesn't it give you the right to take pictures of him naked at HIS place. It's called privacy.

— ⠀⠀ (@drewsspotlight) October 8, 2015
If it were a woman who had naked photos taken of her, people would go insane. Doesn't Justin Bieber deserve the same right to privacy?

— Skye Littlejohn (@SkyeLittlejohn) October 8, 2015
Justin bieber naked pics are greatly appreciated -- although mourning lack of privacy

— Adrian Gomez (@_adrianjgomez) October 7, 2015
Same when iCloud was hacked and naked pics leaked of JLaw. Celebs deserve privacy and that includes Bieber.

— lore-ren incarnate (@laureningram) October 7, 2015
umm can we talk about how totes illegal creepy and generally not morally ok those photos of bieber are

— robbie (@heartofpixels) October 8, 2015
surely taking naked photos of justin bieber without his permission then blasting them on the internet is very illegal

— ellie (@elliedvs) October 7, 2015
Bieber NSFW full frontal…how quick people will get giddy, but a beautiful female "celebrity" gets caught, it's slutty #doublestandard

— Dan Puccio (@dpuccio016) October 8, 2015