X Factor group 4th Impact have said they've never been kissed and will never have sex before marriage.
The sisters – Celina, Mylene, Irene and Almira Cercado – wowed the judges with their blinding audition earlier this series, and are now through to the Six Chairs Challenge stage of the competition.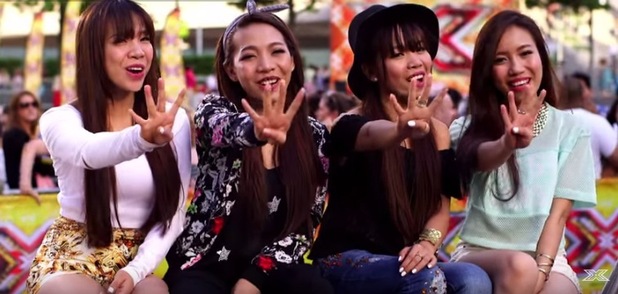 In a new interview with
The Sun
, the siblings, who are aged 19 to 27, spoke about their lives away from the stage, saying they still live with their Catholic parents in Manila, Philippines.
Irene told the newspaper: "Our mum is very strict. We have never even been kissed. I have a boyfriend but I am not allowed in the same room with him alone. My mother must always be there."
She added to
The Mirror
: "We are from a very Catholic, conservative country and we don't drink alcohol . The other contestants can't believe we've never even tried alcohol, not even a sip."
The girls entered the
X Factor
under the name 4th Power but had to change their moniker to
4th Impact
after the audition stage as another band already had the same name.
Their initial audition has more than 16 million views on YouTube so far!