Bobby Davro has said he doesn't regret *that* nomination speech about Farrah Abraham, in which he branded her "ugly" inside.
The comedian, who finished in fourth place on Thursday night, told Emma Willis that although he briefly thought he may have been too harsh, he felt she deserved it.
"It had to be done because she caused everyone so much grief," he said.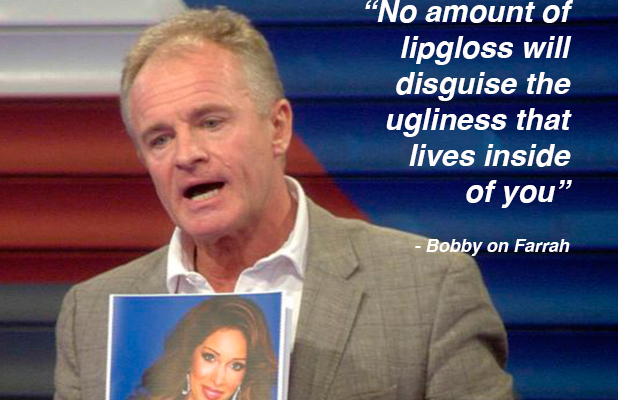 "The night before she'd had a pop at me about my private life. She can't press my buttons as she doesn't know what makes me upset. She attempted it and I just thought she's a nasty person under that beautiful exterior and she has to work on it."
When Emma asked if there were any regrets, he replied: "I felt concerned I was a bit harsh with her and I did try to build bridges with her but it's hopeless with Farrah. She's incapable. I wasn't thinking about the speech beforehand, it just came out. But she never mentioned it again."
Bobby admitted he did like to wind up the housemates, including Farrah. "Every time she came into the bathroom I would whistle the 'Ugly Ducking' at her. I don't think she had any idea. I'm not a malicious man but I'm a bit of a mickey taker. I love winding people up. Gospel truth I don't do it out of malice. I do it out of wickedness and fin and mischievousness."
His full nomination speech to Farrah had read: "The first person I am going to nominate is truly a beautiful woman, however beauty does not exist totally on the outside. It has to be coming from the inside," he said. I might say something that might hurt you young lady but I want you to listen…
"You are possibly one of the ugliest people I have ever had to have the misfortune of sharing my time with. No amount of lipgloss will disguise the ugliness that lives inside of you. I say that because I don't know your background, I know nothing about you.
"I tried…I asked Scoop, 'what do you think if I go to speak to her? Would I would understand you and understand why you are so venomous. Why you have so much vileness inside of you that comes spilling out every time you feel as though you are being attacked?'
"It's so unattractive; it's so dreadful to watch. Because I would love for you to be the complete beautiful person that I know you could be if only you would drop your defences and not attack every time."
CBB finale results
1st: James
2nd: Austin
3rd: Natasha
4th: Bobby
5th: Chloe-Jasmine and Stevi
6th: Sherrie
Celebrity Big Brother
airs on Channel 5.
For exclusive competitions and amazing prizes visit Reveal's Facebook page NOW!