Celebrity Big Brother ended on Thursday night and WE MISS IT ALREADY! So in tribute of what has been a pretty amazing series, we bring you our 30 highlights from the show.
Enjoy!
1. Natasha gives Austin a taste of his own medicine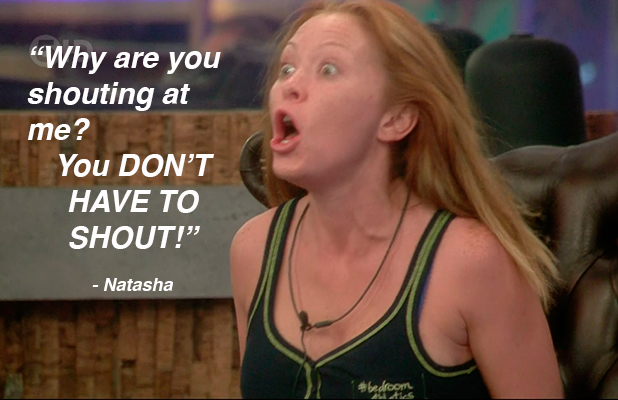 Austin had been storming aroond the house ranting and raving prompting a furious Natasha to pipe up: "YOU DON'T HAVE TO SHOUT! WHY ARE YOU SHOUTING AT ME?" Jeez. We will never make Natasha mad. Who knew such a little thing could scream so loudly? Our eardrums are still ringing.
2. Bobby's harsh words to Farrah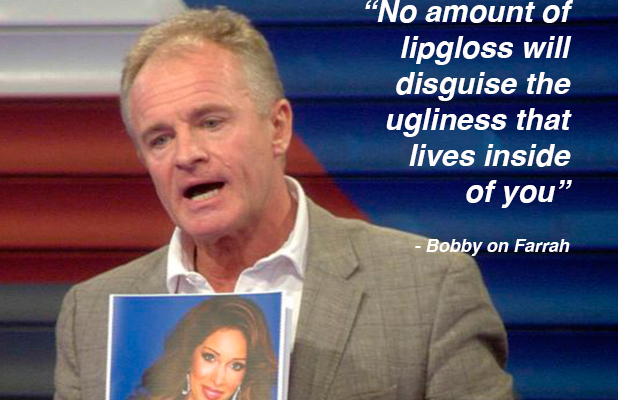 "You are possibly one of the ugliest people I have ever had to have the misfortune of sharing my time with. No amount of lipgloss will disguise the ugliness that lives inside of you." You could have heard a pin drop when Bobby dropped that bombshell of a statement about Farrah during face-to-face nominations.
3. The fake, fake double eviction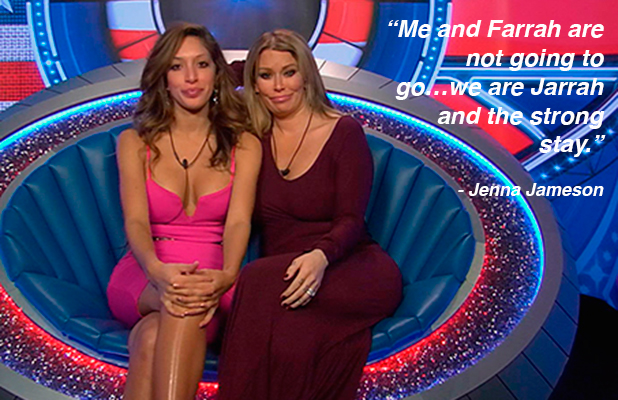 Farrah & Jenna thought they were off home, instead they were whisked away to a secret room to spy on the housemates. In a twist, the housemates KNEW they were being spied on and went out of their way to be mean about Jarrah. So simple yet so effective at causing rows, drama and overall messiness.
4. Chloe's crying-without-tears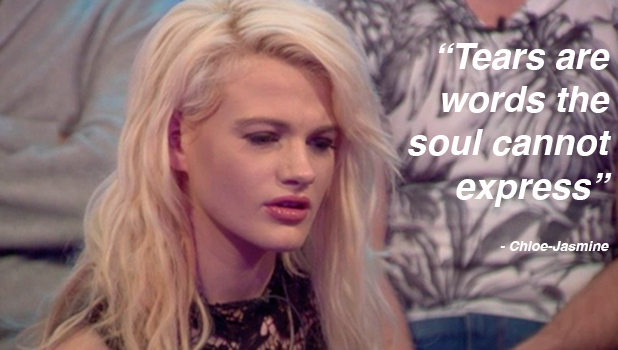 Poor Chloe's had a tough time in the house. We've lost count of the amount of times she's cried… but her apparent lack of tears while crying raised eyebrows among fans, who voted her the most fake housemate. Her response? "If my tears were fake why was my face always wet?"
5. Stevi aka The Hulk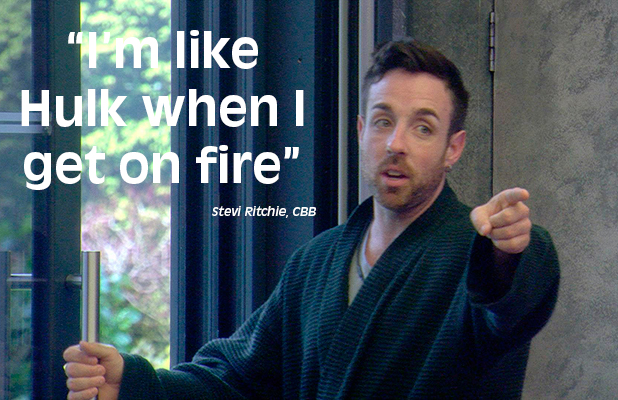 We couldn't help giggle when an angry Stevi proclaimed himself to be a scary, green monster when he's mad. "I'm like Hulk when I get on fire," he shouted in annoyance while defending Chloe. Is it bad we really wished The Hulk had come out in the house?
6. Fifty Shades of Celebrity Big Brother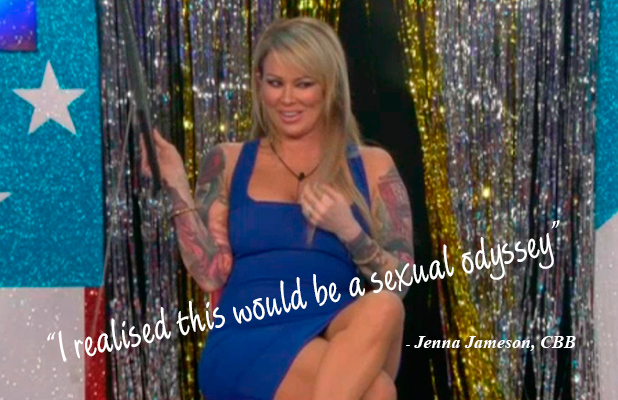 As a former porn star, it's obvious Jenna knows a thing or two about eroticism. But who knew that talent extending to writing? Jenna's sexy fiction about the housemates had us simultaneously cringing and laughing. And trying to wipe our winds of the image of Sherrie screaming for more from Bobby…
7. Austin shaves head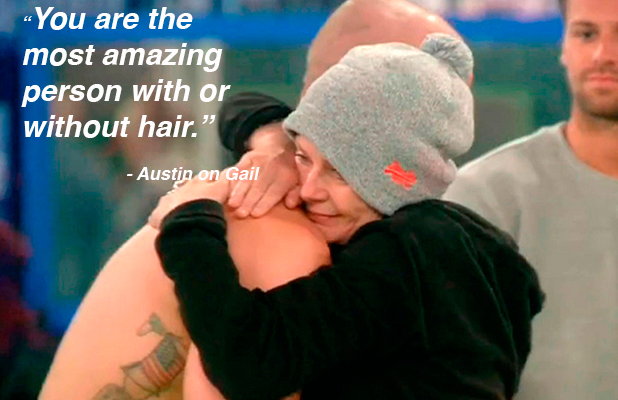 Team USA's Austin entered the house with a full head of hair but will be leaving with much less after shaving his head in solidarity with Gail, who has alopecia. Was it an drunken, alcohol-fuelled gesture during an emotional night? Quite probably. But it was still very heart-warming.
8. Live eviction showdown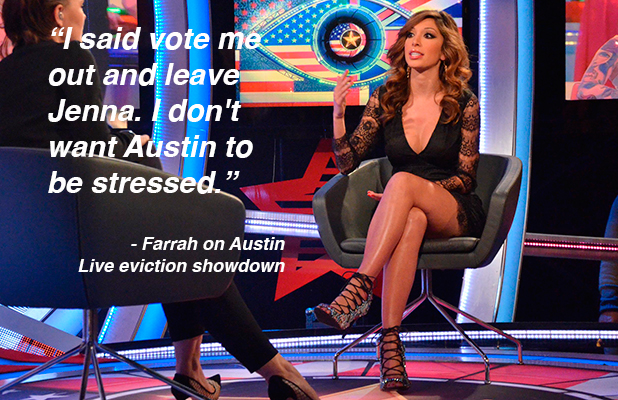 BB gave us a brilliant twist when they forced four housemates to save four others – and unluckily for Austin, he was the one with the deciding vote: save Farrah or Jenna. He chose Jenna, but we were on the edge of our seats during that entire 30 seconds he had to decide.
9. #Jarrah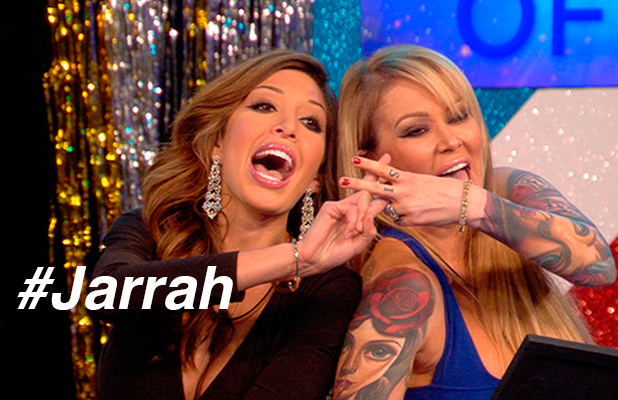 Speaking of Jenna and Farrah, this series was all about #Jarrah. While the rest of the house had a prickly relationship with Farrah, she recruited Jenna as her house BFF. Their bitching, joking and scheming in the secret room was brilliant to watch.
10. Chloe's epic PDA meltdown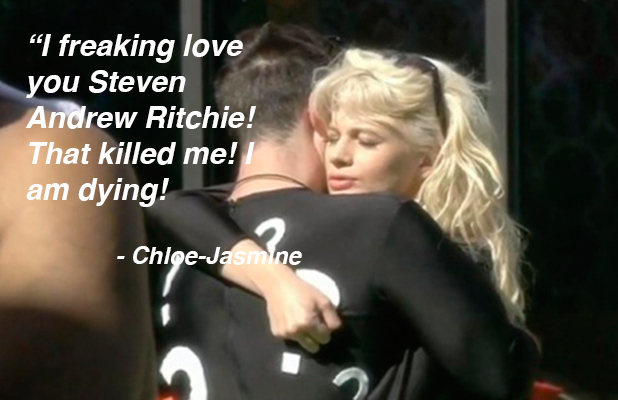 When Big Brother forced Chloe and Stevi to sacrifice their PDAs, well, you would have thought BB was splitting them up for good. Chloe was in hysterics as she contemplated days without physically or emotionally getting intimate with her man: "It feels like someone has died!" When the ban was lifted she joyously screamed: "I freaking love you Steven Andrew Ritchie! That killed me! I am dying!"
11. Chloe and Stevi's pool jump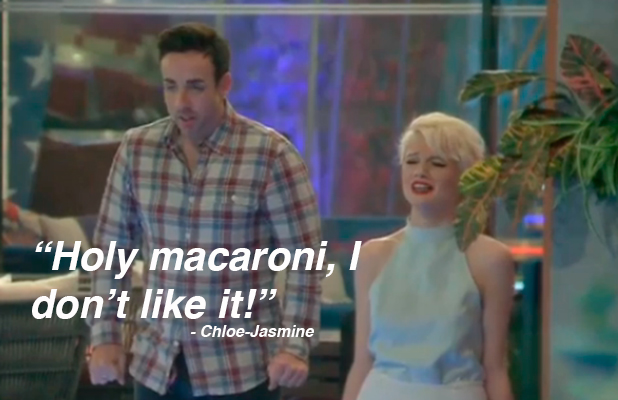 What better way to celebrate surviving an eviction than, erm, jumping into a freezing cold pool with your clothes on. They didn't want to let the public down but we reckon everyone would have been just as content if Chlovi said said, 'Cheers for saving us!'
12. Bobby does Jenna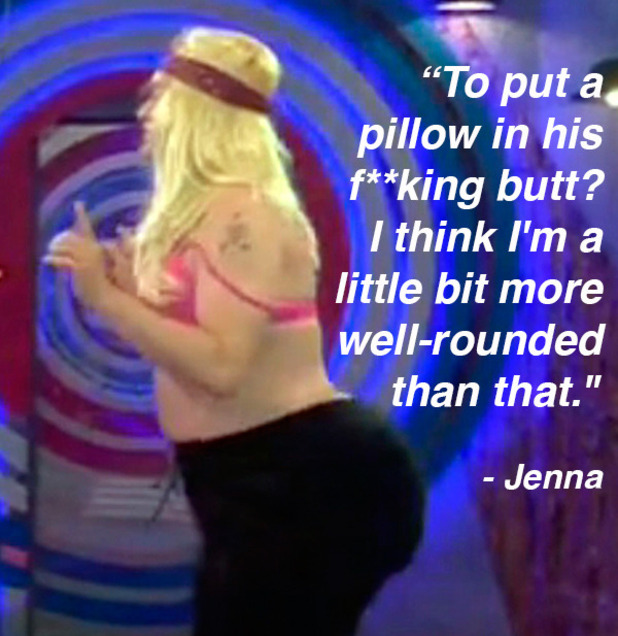 Not in that way! The impressionist did, however, channel Ms Jameson for the housemates' talent show, stuffing a pillow down the back of his trousers to represent her rear end. Suffice to say Jenna wasn't happy at all. Oh dear.
13. Stevi's mankini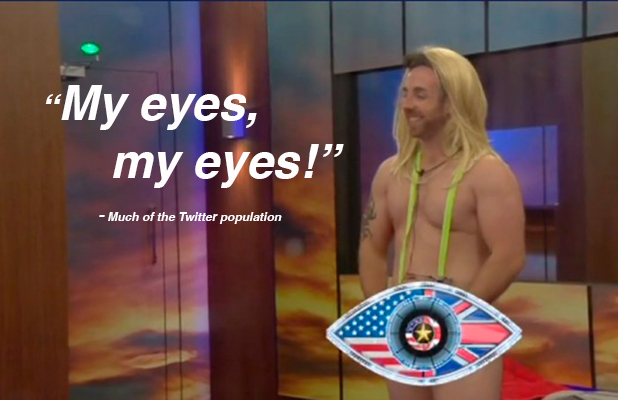 A highlight or a horror depending on your POV. Stevi's neon green mankini made more than one appearance this series and either amused or traumatised viewers. "Stevi in a mankini is why I no longer wish to have eyes," tweeted @MittenDAmour.
14. Girl, bye!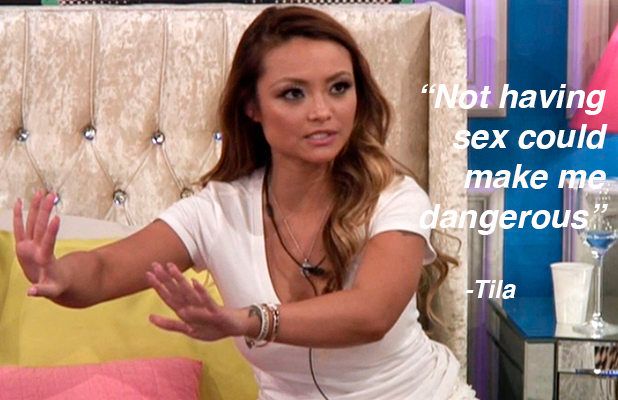 We'd only just gotten to know Tila Tequila when she was dramatically booted from the show after one day in the house. Bosses gave her the axe after comments she made about Hitler a few years ago resurfaced… It was a massive story at the time. Now it's more like, Tila who?
15. Bee sting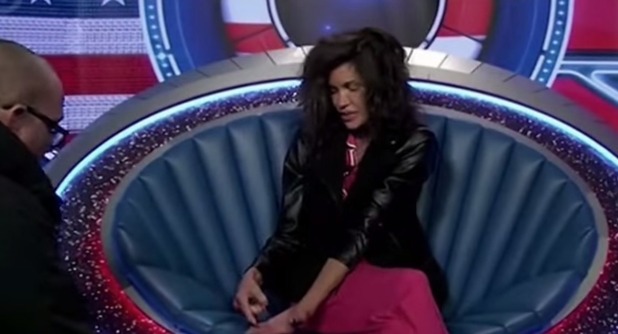 This actually wasn't funny: it was scary. Janice's allergy to bee stings meant she needed medical treatment when she was stung in the garden. Many fans were outraged that footage of Janice fitting and slumped in the Diary Room was shown. Thankfully, she was okay.
16. Baby mama Janice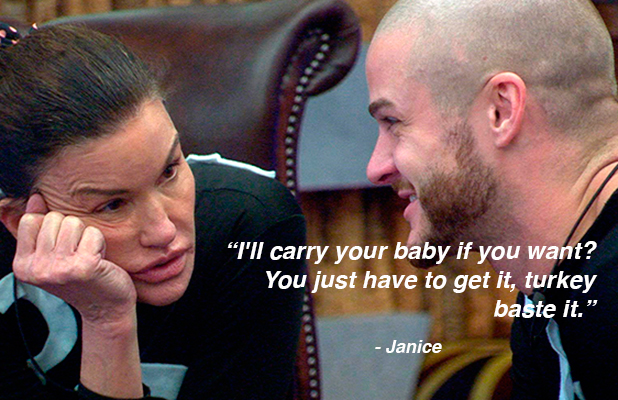 We bet Austin never thought he'd find a baby mama in the house but that's just what happened when a loving Janice offered to be a surrogate for him and his husband. I'll carry it if you want? You know I can carry it. You just have to get it, turkey baste it. I'll do it. I will honestly do that."
17. Spitting is for camels only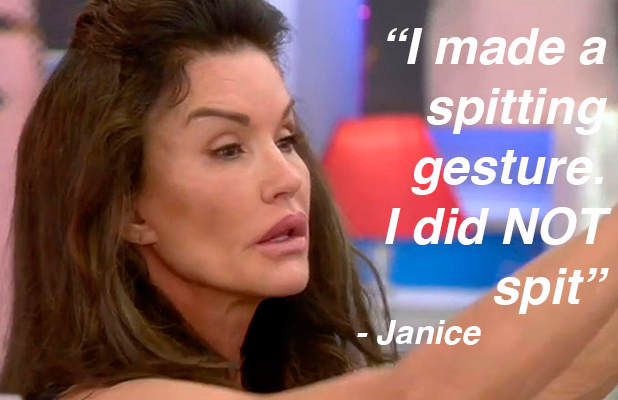 The first 'scandal' of the series was spit-gate. Janice got an official warning for spitting at Austin. She insisted she'd just gestured doing it and hadn't actually spat at him. The row was over the housemates using all the hot water when Janice wanted a bath.
18. J-austin love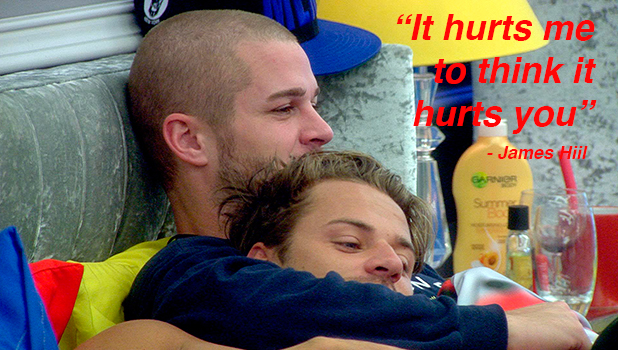 We love a good bromance and there are no one more bromancey right now than James and Austin. They've had their rows in the house and aren't afraid to tell each other how it is. But at the end of the day, nothing will ever break these two.
19. Gail's perfect timing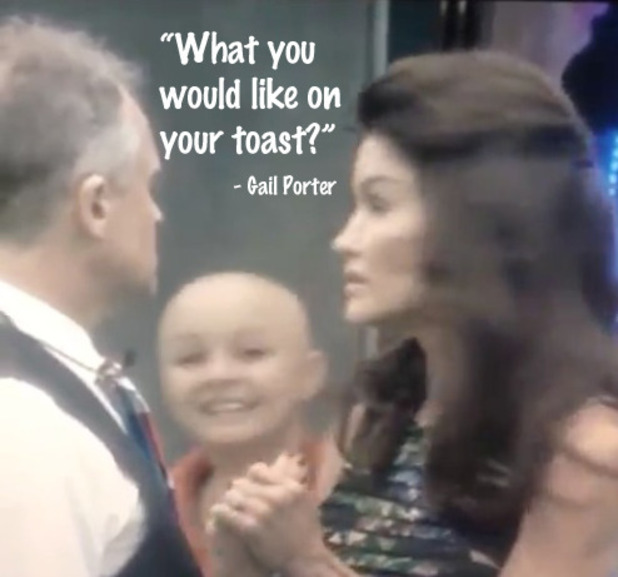 While Janice was in the middle of explaining a very heated argument to Bobby in the garden, Gail appeared from out of the blue, asking, "Hi! What would you like on your toast?" Janice's reply: "Oh just butter please." The timing couldn't have been any worse, but upon reflection, it actually couldn't have been any better.
20. Janice on the runway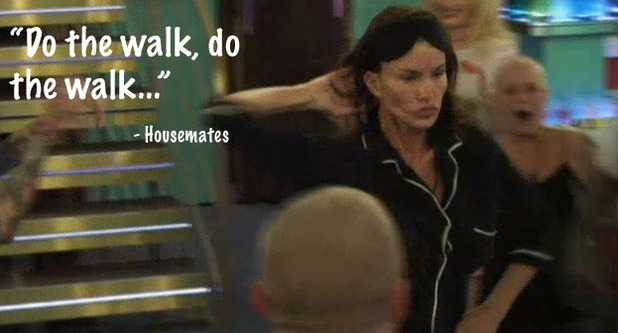 Big Brother played 'Push It' by Salt-n-Pepa in the house, and while everyone was dancing, it was Janice who really took it in her stride. Starting on the staircase, Janice walked down the stairs with her arms up in the air, rocking a pout and wearing satin silk pyjamas, all while strutting her stuff like she was on a catwalk. FYI: She totally owned it.
21. Stevi wants a break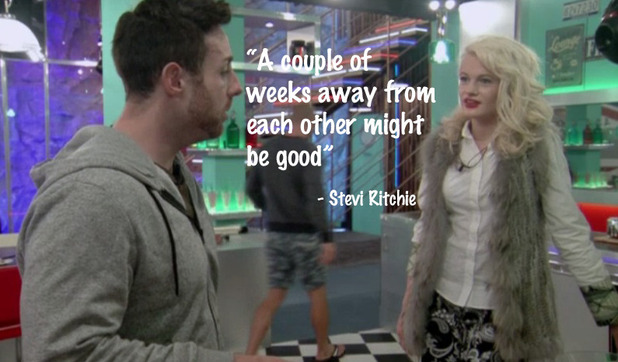 After spending lots of time together, Stevi suggested that he and Chloe-Jasmine should spend time apart when they leave the house. He meekly asked her in the kitchen: "Do you think when we get out of here we should spend a couple of weeks with our loved ones, Chlo? A couple of weeks away from each other might be good." Chloe's response: "I don't know darling you always say that."
22. Bobby's phobia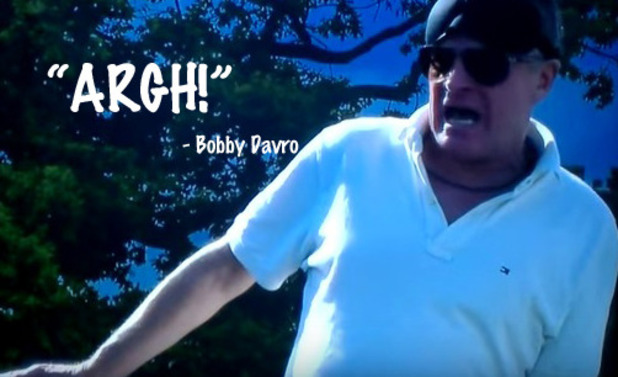 Everyone has phobias and Bobby's is spiders. While in the resting area in the garden, Bobby saw a spider on a web and completely freaked out. It turns out Stevi wasn't able to save it either, and so the pair called Gail to handle it. She was rather confused by what all the noise was about but Bobby literally couldn't stop screaming.
23. Farrah wants a wax figure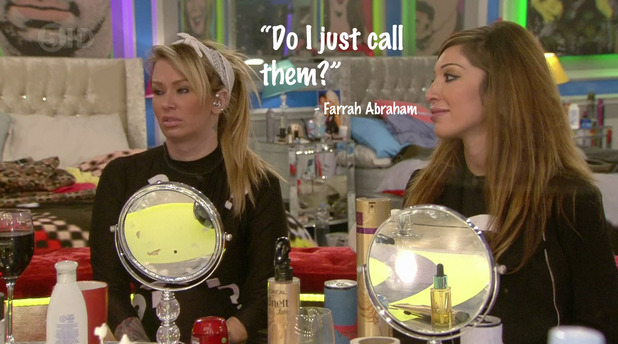 Farrah found out Jenna has a wax figure in the Los Angeles branch of Madame Tussauds, and, it turned out Farrah wanted one too. Farrah asked: "Do I just call them?" Not quite Farrah, not quite.
24. That Bit On The Side fight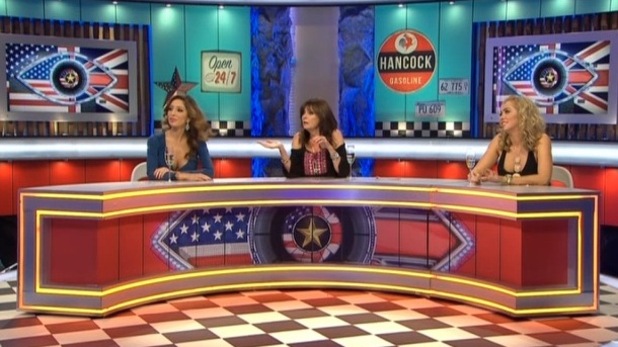 Okay, it didn't happen on the main show but there's no getting away from the fact the spinoff show fight was on EVERYONE's lips. Channel 5 cut transmission to the show after an alleged altercation between panellists Farrah Abraham and Aisleyne Horgan-Wallace that left Vicki Michelle injured. Vicki has said she's pressing charges against Farrah, Farrah has said she's pressing charges against Aisleyne, and Aisleyne has denied starting the fight and accused Farrah of throwing champagne glasses.
25. Austin's rant towards Janice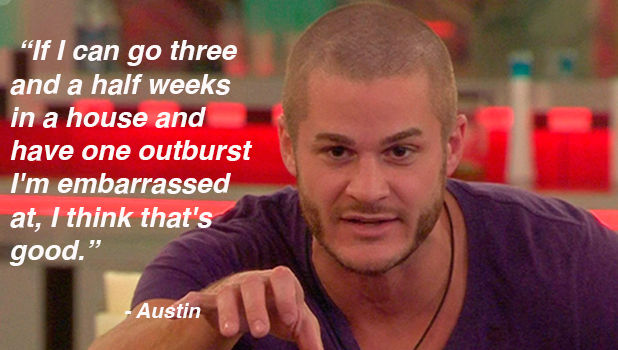 When Austin gets mad he gets really, really mad, as we saw when he let loose at Janice during burning letter-gate. She chose to destroy his letter from home, prompting him to unleash a furious foul-mouthed tirade including: "You f**king embarrassment of a mother, you should be ashamed. You stupid c**t." He later apologised and she accepted.
26. Introducing Ritchie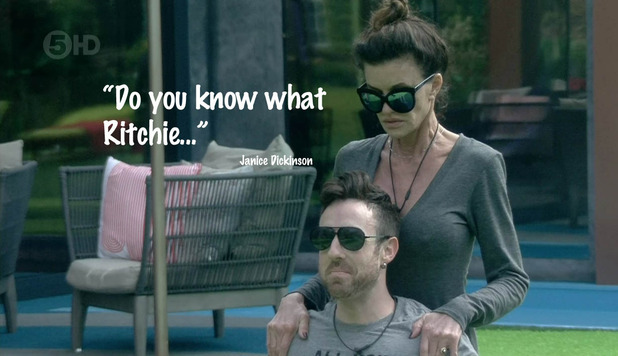 Didn't you just love it when Janice called Stevi, Ritchie? It was brill, right?! At first, we were wondering if there was an imaginary new celeb in the house, but no, it was just Janice calling him by his surname. And Stevi happily responded to it too!
27. Janice and Farrah deliver stern warnings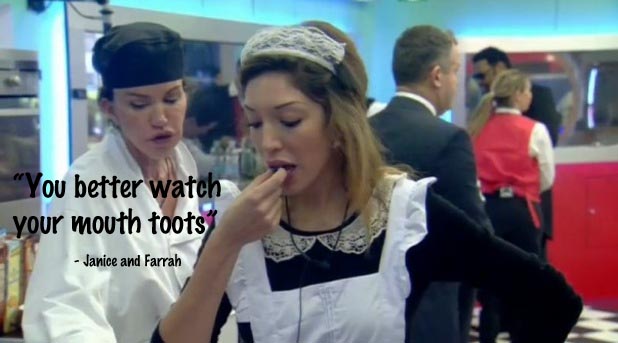 Janice and Farrah came to blows over food after Janice asked Farrah to use a fork instead of her hands to take out a berry from a bowl. The pair went back and forth with insults. Farrah: "I grab one berry, I don't infect the whole f**king bowl, so don't tell me what to do." Janice: "It's unsanitary." Farrah: "You're unsanitary." Janice: "You better watch your mouth toots." Farrah: "You better watch your mouth toots." Just brilliant.
28. Bobby gives it his all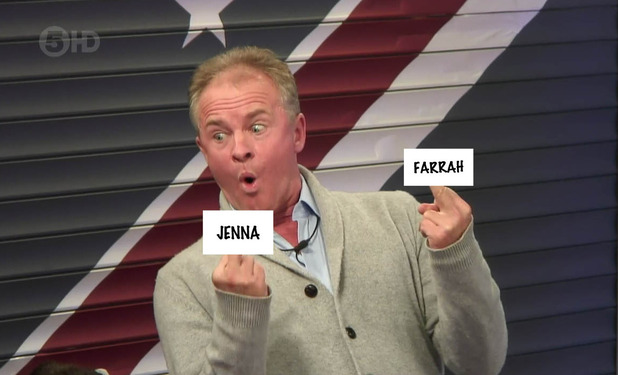 Jarrah returned to the main house after their fake eviction and it soon kicked off with the housemates. It was Bobby's birthday and he wasn't too impressed to see them back. Jarrah said they had a birthday present for Bobby, which was in fact a finger salute. Bobby said he had a present for them too, and gave them a finger salute back with so much conviction!
29. Oh no! We've lost Austin!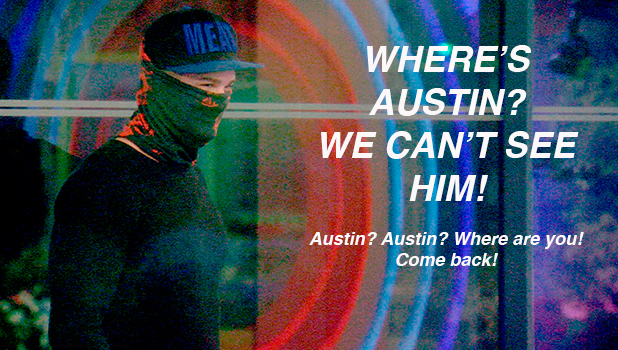 Who knew Austin could provide so much entertainment while invisible? As part of a task, he was banned from verbally or physically communicating with the housemates and stalked around the house looking rather menacing with a scarf tied around his face. That ouija board game was brilliant – especially when Invisible Austin admitted he was missing James, prompting 'awws' all around.
30. Janice Dickinson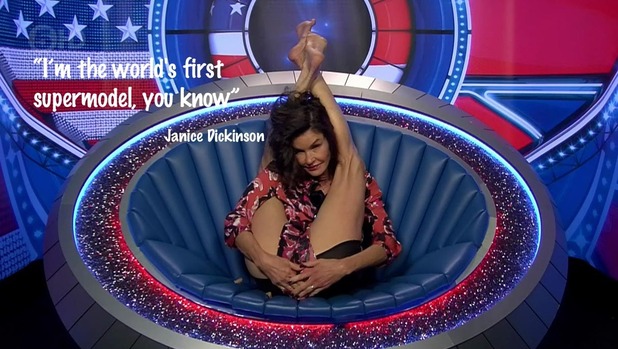 It's only right that supermodel Janice gets a mention of her own. She definitely was one of a kind in that house, and she may have rubbed housemates up the wrong way, but there's no denying that Janice was TV gold. That Oscar-worthy speech, her constant arguments with Austin, Jenna and Farrah, and at times, her unwillingness to co-operate in weekly tasks, made Janice one of the most entertaining housemates this series.