Chloe-Jasmine Whichello feels deeply offended that Celebrity Big Brother viewers think her tears in the house have been fake.
The former
X Factor
star was left upset after last night's Team UK versus Team USA task hosting by Eamonn Holmes, who told her the public had voted Chloe and Stevi as the fakest housemates, with 40 per cent of the vote.
"We have always endeavoured to be ourselves," replied Chloe. "He is completely genuine. Who are these people?!"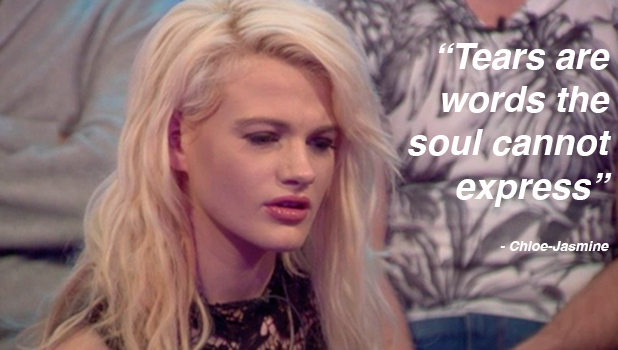 Eamonn tried to explain: "Chloe, we have to work out what the public are seeing as fake between you too and let me use just one word: tears. There is a perception out there that you cry but you don't shed tears."
Chloe was stunned. "Really? My face is always wet."
"Well, that's the perception," said Eamonn. "People think you cry and put it on…"
Chloe responded: "I don't know how that could be possible. Tears are words that the soul cannot express. I'm really sorry that it hasn't been believable but to me it's been very real."
CBB
's final airs tonight on Channel 5.
CBB Series 16: Who should win?
Chloe-Jasmine and Stevi Ritchie
7.52%