Jenna Jameson has had her say on the Celebrity Big Brother's Bit On The Side fight, accusing Aisleyne Horgan-Wallace of starting it.
The Channel 5 spinoff show cut transmission on Tuesday night's (22 September) episode after an altercation between panelists. Jenna and Aisleyne were on the panel with Farrah Abraham, Janice Dickinson and Vicki Michelle.
As there has been no official comment from bosses on what exactly happened, other than to say there was an incident, rumours have been running wild.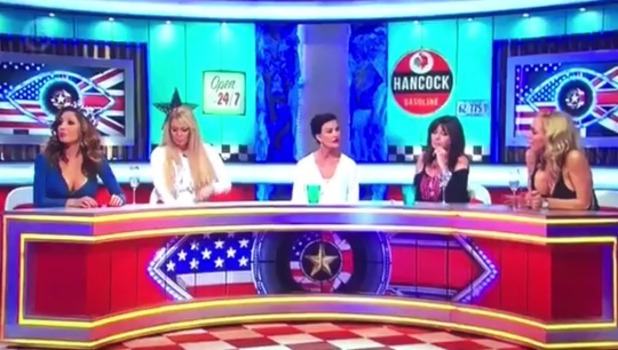 Former Big Brother housemate Aisleyne gave her side in an interview yesterday, while actress Vicki spoke about the incident in an interview today. Farrah and Janice have not formally said anything, instead speaking via reps.
Now, ex-housemate Jenna has waded in via Twitter, telling fans: "I was witness to the melee on BBBOTS. That whacked out has-been threw champagne into my eyes, aiming for Farrah, starting the fight.
"Janice Dickinson went on a rampage slinging chairs, hitting Farrah in the head and back."
As for her own role, she said: "I didn't do anything. I walked away as soon as violence broke out." Jenna also denied claims she was removed by security, saying: "No one removed me. I run this bitch."
It's all getting a bit confusing with so many people having their say and no official comment. So here is a recap of what the others have said:
Farrah
She hasn't commented yet but her rep has claimed she was hurt in the row. A statement read: "Farrah was assaulted twice and received medical attention both last night and today as a result of injuries caused by one of the assaults."
Aisleyne
She
gave an interview to The Mirror, claiming Farrah was like a "wild animal"
and started the row by throwing two champagne glasses at her, one of which hit Vicki in the head. She alleged: '[Farrah] threw the glass at me. It smashed all over the floor and the desk. Because it didn't get me she picked up another glass, threw it and it smashed. She picked up Jenna's glass and threw it.'
Vicki
She has
given an interview to The Mirror alleging Farrah smashed a champagne glass
and shattered glass hit her in the head. She claimed: " [Farrah] whacked the glass hard like a discus. It was the base of the glass and it shattered in my hair.
Janice
She hasn't commented yet but her rep is quoted as saying Janice did throw a chair in order to protect Vicki from any further harm.
Channel 5 has only issued the following statement: "Last night's
Celebrity Big Brother's Bit On The Side was interrupted due to an incident
on set. Everyone involved is fine and last night's events are currently being investigated."
Meanwhile, police are investigating. A statement read: "Hertfordshire Constabulary received a report at 10.55pm on the evening of Tuesday, September 22nd regarding an incident which is alleged to have occurred in the Elstree Studios in Borehamwood. The incident occurred a short time before the call. Officers are currently making inquiries to establish the exact circumstances of what happened and will release further details when appropriate."
CBB Series 16: Who should win?
Chloe-Jasmine and Stevi Ritchie
7.52%