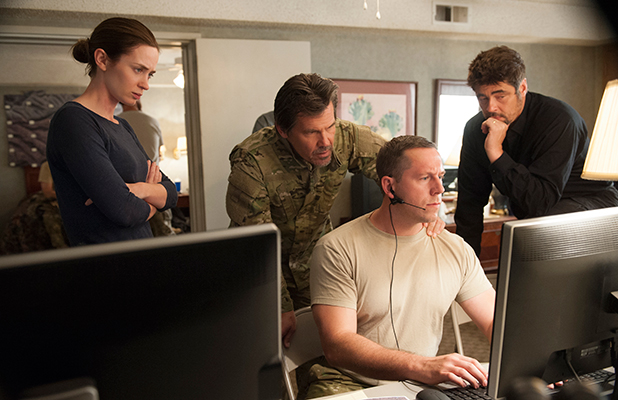 SicarioStarring:
Emily Blunt
, Benicio Del Toro, Josh Brolin
Rating:
15
Release:
8 October
With a plot focusing on the increasing power, dominance and ruthlessness of Mexican drug cartels, it's no surprise that from the start,
Sicario
is peppered with violence, harrowing scenes and distressing images; the mesmorizing yet creepily terrifying opening scenes will linger with you long after the movie has ended…
Emily Blunt plays FBI Agent Kate Macer, who is working to find a series of drug dealers' victims that have gone missing in the US. She's young, determined and wants to get the bad guys, so she jumps at the chance to help catch the guy at the very top of the chain – the powerful drug lord in charge of the whole operation. She joins a secretive government task force run by Matt Graver (Josh Brolin) and his super shady and mysterious colleague Alejandro (Benicio Del Toro). But from the start, it's clear Matt and Alejandro are keeping Kate in the dark about what they really want… is this taskforce doing what it claims?
This is a very different Emily to the girl we all fell in love with in
The Devil Wears Prada
. Kate is a strong woman on the outside with high morals, ferocity and a tough core (you'd have to be to battle the Mexican drug cartels) but inside there's a vulnerability that she tries to hide from her male-dominated workplace . Emily's performance is phenomenal, perfectly balancing Kate's horror and disgust at the evil world they are entering, her desire to eliminate it, and her need to do it by the rulebook – the latter of which her colleagues don't care about. Her Kate is a woman torn between getting results by following a shady path or keeping to the moral high ground… hard to do when it's a world where money, drugs, violence and power are king.
The world of Mexican drug cartels may seem familiar from TV news reports but how many of us really understand what happens beneath the surface? With
Sicario
, which means hitman in Mexico, we get a chilling and horrifying look at what really happens at some parts of the Mexico/US border, how drugs are delivered, people silenced and just what unnerving measures the drug lords will go to to ensure they remain on top. In
Sicario
, no one is immune: men, women and children are all potential victims.
This is one of the most powerful films we've seen all year: an honest and brutal look at the ongoing battle with evil that threatens to permeate every layer of society… and just how close to home it really is.