David Beckham has revealed his four-year-old daughter Harper can run in heels!
If you still stumble around in stilettos and do the morning commute in trainers, look away now! It seems Harper has already mastered the ultimate skill that alludes most of us - the ability to run in heels. Sigh.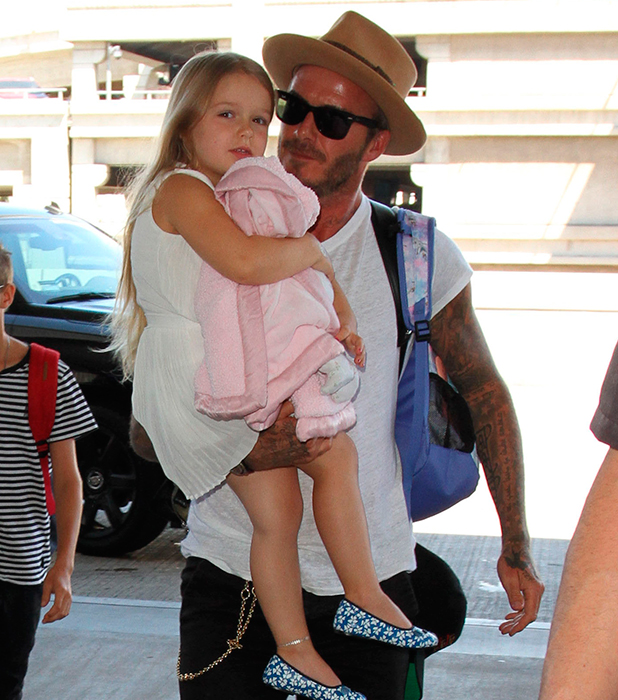 After Victoria Beckham recently revealed
Harper wants to be a footballer
, and jokingly describing the revelation as a "dagger to the heart" David shared his sunnier view on Harper potentially following in his footsteps: "That is the best thing I've ever heard!" he said during an interview on Good Morning Britain.
"Obviously I've bought her football kits over the years… as soon as she comes down [wearing the football kits] and says, 'Mummy look', you can imagine it's the same kind of reaction that she got when Victoria heard she wanted to be a footballer.
"We were outside playing football the other day and she had a really pretty dress on and then a pair of pink football boots which I then sent Victoria the video, so again I think that was also a dagger in her heart but I love, it, I love it!
"Victoria is like, 'Please, we've got four children, three of them are boys and all love football. Please just let me have one that kind of wants to dress like me or wear high heels and actually Harper is amazing, she runs in high heels so she's definitely got that from Victoria."
Given Victoria is a fashion designer and all round style queen, no doubt Harper already has her eyes on raiding her mum's shoe closet!
For exclusive competitions and amazing prizes visit Reveal's Facebook page NOW!