Celebrity Big Brother's Austin Armacost is still feeling hurt about James Hill nominating him for tonight's double eviction.
In a surprise move, former
Apprentice
star
James chose to nominate house BFF Austin
to face the public vote after tiring of his behaviour in recent days.
Explaining his nomination, James said: "The way he is treating people and the way he goes off isn't acceptable and that is very hard for me but I have to make the right decision. As much as I love him, he is wrong in how he is behaving and it makes it very hard for me because he is my best friend in here."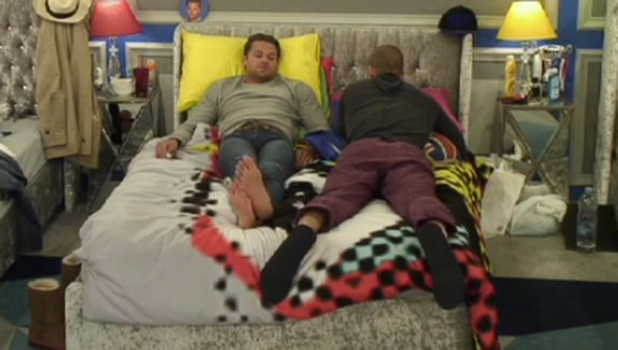 The nominations were played on a TV screen so all housemates could see them.
Afterwards, James, who also nominated Jenna, retreated to the bedroom to be alone, saying he felt bad about his decisions, even though he stood by them.
Austin came to see him and said he didn't understand why James was saying nominating him was both hard and easy to do.
"It was the hardest thing for me to nominate you," said James. But it was easy to do in the same breath because I had a reason. Let's not go there. Because we are going around in circles, aren't we? I wouldn't be normal if I didn't feel like this because you are both my friends you know. But I stand by my decision."
James told Austin he felt bad, prompting Austin to reply: "Well that's how you should feel at this point."
Austin, however, wasn't happy, saying James kept reiterating the fact it had been an easy choice: "Two or three times you have said something that twisted the knife that I feel is already in my back." James said perhaps he had used the wrong wording and he was genuinely upset, so Austin said: "Don't you think I would appreciate it more if you came to me and said that? As opposed to saying it was so easy to make the decision you're your best friend in the house… I would appreciate a little bit of understanding."
James said that he did understand, but Austin said he didn't, as no matter what, James is now through to the final. James said he wasn't thinking about that at all and didn't want to keep discussing the matter.
CBB's sixth eviction: who should go?
CBB
airs tonight at 9pm on Channel 5.