Farrah Abraham has become the fifth housemate to be evicted from Celebrity Big Brother.
They were booted from the house on Friday night's (18 September) live eviction showdown after their fellow housemates chose to save the other housemates over her in a dramatic twist.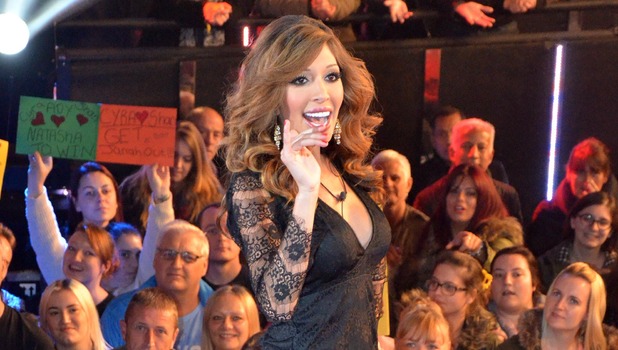 All housemates were nominated for eviction by Big Brother this week, so there were no individual nominations. The public had to vote to save the four housemates with the most votes were safe, while the others took part in Big Brother's live eviction showdown.
Austin Armacost, Stevi Ritchie and Chloe-Jasmine Whichello (who are one housemate), James Hill and Natasha Hamilton were saved, having received the most votes.
But... in a twist, they learned the fate of the other housemates was in their hands, and they could all save one housemate each. Yikes.
Host Emma Willis delivered this news by entering the house, telling the group: "This is no ordinary eviction... Housemates, hold on tight. I'm coming in.... This week all of you have faced the public vote and right now you are all in the firing line however four of you are about to be saved from eviction. For the past four days, the British public have been voting and the four housemates who have received the most votes in alphabetical order are: Austin, James, Natasha, Stevi and Chloe."
Each of the four saved housemates had to stand behind a plinth and then choose a housemate to save, after listening to Janice Dickinson, Farrah Abraham, Jenna Jameson, Bobby Davro and
Sherrie Hewson
explain in ten seconds why they deserved to be saved.
Natasha chose Sherrie, as she was a wonderful and calming person. James chose Janice, because of how important she is to Chloe. Engaged couple Chloe-Jasmine and Stevi chose to save Bobby, as they have become close to him. Austin then had the choosing vote: would he save Jenna or Farrah, both Team USA like him?
Both Farrah and Jenna told Austin they didn't mind who he chose, they just didn't want him to get stressed about the decision.
Austin said: "It's difficult for me because it's one of my teammates and I have grown close to both of them. Jenna, we started off with a bang and clicked right away. Farrah, the last five days have been an absolute pleasure with you. No matter the boos outside, we have all seen you are a great woman."
He then said he had to evict Farrah.
"Thank you Austin," she replied. The Teen Mom then hugged all her housemates, telling them all "much love" as she got ready to walk up the stairs and face the crowd...
Here's how viewers took the news:
Farrah leaving is just an absolute travesty. #CBB

— Ali (@NicoleFranzelBB) September 18, 2015
You can say what you want about Farrah but she's stole this series. It would have been nothing without her. #CBB

— J (@jayconlon19) September 18, 2015
Gutted for @F1abraham loved her. She MADE this series of CBB. Love her or loathe her she entertained us all! #CBB

— Luisa Zissman (@TheLuluLife) September 18, 2015
Farrah was actually coming across as an alright person the past few days. Kinda sad to see her go. Then again....meh #CBB

— Cara Cook (@CaraLCook) September 18, 2015
I wanted Jenna to go. I thought she was the s**t stirrer rather than Farrah as most of the housemates seemed to think! @BBUK #CBB

— Rebecca Conway (@ItsRebeccaC) September 18, 2015
I mean why bother watching it anymore when the entertainment has been evicted? #cbb Stupid twist.

— richard pls (@oohrichard) September 18, 2015
Im gutted that people who have barely brought anything to this series are still there in while Farrah has gone, she was so entertaining #CBB

— Ellis (@elllisn) September 18, 2015
Surprised to see #cbbfarrah go, but really nice to have seen the nicer Farrah the past week #cbb

— Jimmy Love (@JimmyLove84) September 18, 2015
CBB airs nightly on Channel 5