Ariana Grande has admitted it was excruciatingly painful to disappoint her fans following that doughnut-gate incident earlier this summer.
The 'Bang Bang' singer, 22, was filmed at a doughnut shop in July, licking doughnuts on display and making disparaging remarks about her country, including: "I hate Americans. I hate America."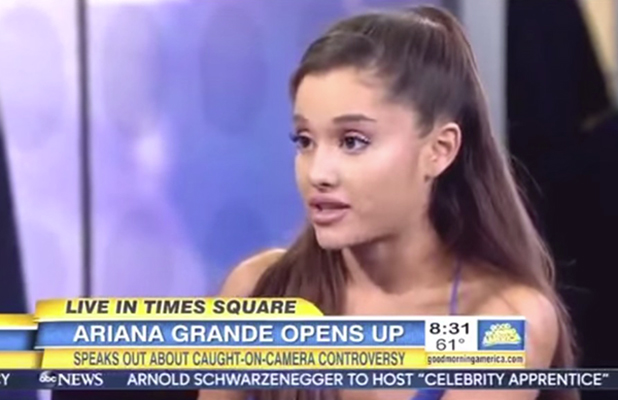 Speaking on
Good Morning America
this week, the singer said: "First of all, my behaviour was very offensive and I apologised. There is no excuse or anything to justify it.
"But as human beings we all say and do things we don't mean at all, sometimes, and we have to learn from it. That's part of our process. We have to learn from our mistakes and that's how we grow.
"One of the biggest things I have learned from that is what it feels like to disappoint so many people who love and believe in you and that is an excruciating feeling. You have to remember your actions have ramifications and you have to really think about what you're going to say and do. It's important to so many people."
Ariana released a statement immediately after the incident, saying: "I am EXTREMELY proud to be an American and I've always made it clear that I love my country. What I said in a private moment with my friend, who was buying the doughnuts, was taken out of context. I am sorry for not using more discretion with my choice of words."