Austin Armacost's comments about James Hill didn't go down well with some Celebrity Big Brother fans last night…
Team USA's Austin and Team UK's James have been BFFs since they entered the house on Day One, so it was surprising for some viewers to see Austin briefly complain about James last night.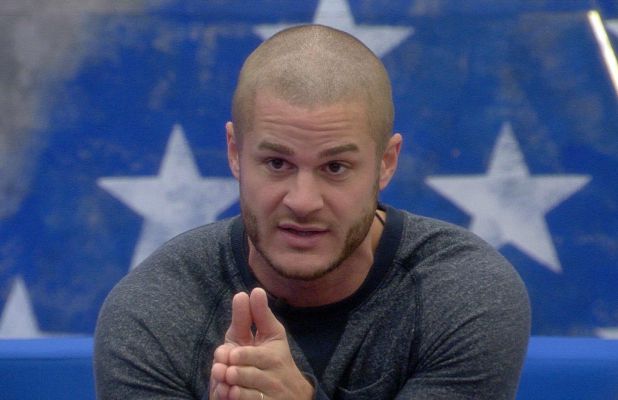 While talking to Jenna and Farrah, Austin said he was annoyed at James for telling Chloe-Jasmine and Stevi they would be safe at each eviction: "I told James, 'Can you please stop blowing smoke up his ass?' For the last four evictions, he's been saying, 'You're good! 100 per cent great! Like James, shut up because we don't know…'"
Some fans weren't too happy about this or Austin's behaviour yesterday...
So Austin bitches about James? Now who is fake? Austin is such a user! So selfish! #cbb

— Liz Read (@NoregretsLiz) September 16, 2015
Thought Austin had a good chance of winning before tonight, got to be James now. #cbb

— Ross Lindsay (@RossLindsay21) September 16, 2015
@luv4rob now austin is even bitching about james so much for friendship #CBB

— /// (@godisacelt) September 16, 2015
Austin's changed his tune. Dislike him now, especially slating James with those two. Two faced arsehole. #cbb

— Rebecca Pursell (@ChewRebecca) September 16, 2015
Ooooo is this Austin turning on James? Is the bromance over? #cbb

— Kim (@KimFlitter) September 16, 2015
Austin slagging off James? Lol he's gonna get booed on Friday #cbb

— ҉ (@AdoringGinaRio) September 16, 2015
Austin has been in a bad mood in the house the last couple of days after accusing Chloe of snubbing his late brother's birthday toast. He was angry Chloe stayed in the bedroom while the rest of the housemates gathered to pay tribute to his brother.
Chloe said her alcoholism meant she couldn't be around open drinks sometimes, but Austin refused to accept this, saying there had been open drinks in the house since day one.
It ended in an angry Austin saying he was upset and disappointed with Chloe, who became tearful. When Stevi and Janice tried to defend her, Austin shouted at them too.
That all led to James talking Austin to one side, and saying: "As I've said before, just the way you speak to people sometimes, you know, you don't do it the right way. You need to calm the way you speak to people and show them a little more respect.
Austin countered this by saying: "You have to earn respect and a lot of people in this house have earned zero respect and actually lost it."
But James replied: "They don't have to show you respect, you're not God, you're not the prime minister…"
Austin said, "Not me! Show the house respect!"
CBB
airs nightly on Channel 5.
CBB's fifth eviction: who should go?
Stevi Ritchie and Chloe-Jasmine
24.93%