Jenna Jameson entertained the Celebrity Big Brother housemates last night with a piece of original erotic ficton… ooh, la, la!
The former adult movie star had her housemates in stitches as she read them a story of sexual desire and naughtiness within the
CBB
house, warning them beforehand: "This is made to entertain… and also make you a little bit uncomfortable!"
She penned the sexy story for the Talent Show Part Two. As she and Farrah Abraham were locked away in the secret room during the first Talent Show, Big Brother decided they should be given the chance to show off their talents now they are back in the house.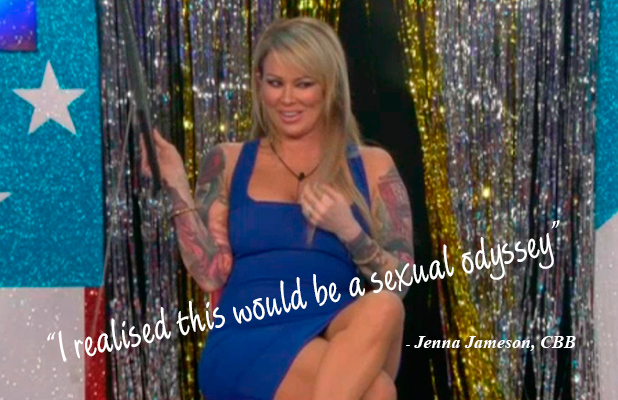 So without further ado, here is Jenna's full story!
"I felt my pulse racing. The door slid easily open and my eyes met the curious gazes of my new housemates. I realised this would be a sexual odyssey. I could feel the sexual tension almost instantly as I watched James' eyes undress Farrah is such a blatant fashion that she writhed.
"I felt a pain deep in my loins for the beautiful Gail. As she kicked off the inevitable, her clothes fell away like leaves in autumn. The tan, lithe bodies of Natasha and Janice intertwined in scissor fashion. Bobby took the beautiful, blonde sexpot Sherrie from behind.
"Scoop, the tall, dark and handsome stud began an erotic description of the wanton display in front of him. 'Oh yes, Scoop! Take me!' cried Gail. 'Oh, Janice, you are doing it so perfectly!' cried Natasha. 'Oh my God!' Sherrie was the most epic of them all. She wanted Bobby in every way imaginable. 'Oh yes, oh yes, Bobby. Give it to me hard. Oh Lord! Oh.'"
The end!
CBB
airs nightly on Channel 5.
CBB's fifth eviction: who should go?
Stevi Ritchie and Chloe-Jasmine
24.93%