Ian Somerhalder has joked he's loving his "perfect practice" with wife Nikki Reed as they prepare to start a family.
The
Vampire Diaries
star told
ET Online
that he can't wait to be a father but in the meantime he's very much enjoying all the practising. Lucky Nikki!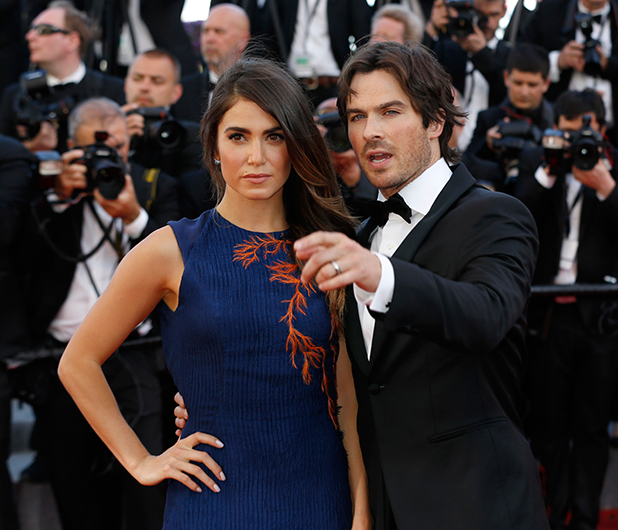 When asked if he wanted to be a dad, he said: "Oh, hell yes! Absolutely. You know, it's all about practice… It's not practice makes perfect - it's perfect practice."
As for married life, he added: "It's the most incredible thing to be happy and secure in something. It's a pretty crazy time and place to bring a child into this turbulent and insane world -- but I really can't wait to do it and really just love it."
Ian married
Twilight actress Nikki in a secret ceremony in Santa Monica, California
at the end of April. They later honeymooned in Mexico and Costa Rica before jetting over to France to make their red carpet debut as a married couple at the Cannes Film Festival.
In April, Ian couldn't help gushing over his partner while attending her clothing line launch: "Awesomeness. You never cease to amaze me.Talent and beyond... Acting, writing, producing, directing, designing and in the morning as you're happily rushing off to work even more - you make the best pancakes in the world. Not sure how you do it all. I need to step up my game my love - I'll get right on that..."
Nikki marked their one-month anniversary in May by
releasing a video to Instagram giving fans a look at their wedding.
She said: "You are my every dream brought to life, we are a cosmic collision, this is a lifetime felt in every moment I'm by your side. My love, my human...happy one month. Thank you @glassjarphotos for capturing the most important day of our lives. Thank you @clairepettibone for creating this work of art aka my dress. Music by @johnnyswim."