Janice Dickinson has apologised profusely to Celebrity Big Brother housemate Jenna Jameson, saying: "I never wanted to hurt your feelings."
Former supermodel Janice decided to clear the air with her Team USA housemate following Jenna's return to the house this week after that fake eviction.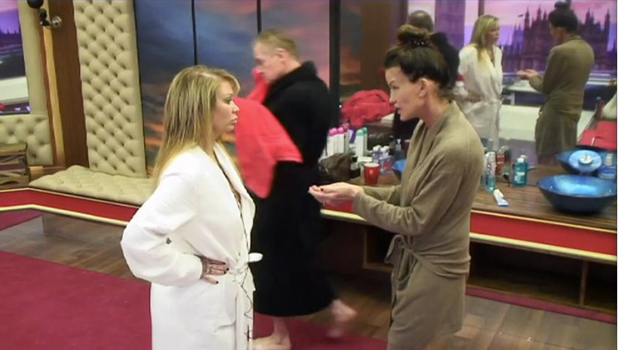 Jenna and Farrah Abraham were fake evicted from the house on Friday night
, taken to a secret room, and told to spy on the housemates for 48 hours. What they didn't know was that housemates were told they were being spied on, and if they got themselves nominated, they would actually be immune from the public vote this week.
That meant housemates went out of their way to
say negative things about Jenna and Farrah in the hopes of angering them
and getting nominated.
But now that Jenna and Farrah are back in the house and the secret is out in the open, Janice wanted to clear the air and apologise.
She approached Jenna and said: "I was completely out of line. If I've offended you in any possible way, all I can do is amend by behaviour towards you.
"I want to tell you how truly sorry I am about my behaviour. What I said and how it hurt your feelings. It wasn't my intent to hurt your feelings. It was my intent as per requested by the Diary Room. I will always be there to protect you and defend you. I didn't take part in any of the partying when you and Farrah left. I went straight to the bedroom as I thought it was disgusting."
Jenna replied that she accepted Janice's apology and the pair hugged it out.
As it turns out,
Janice's jibes about Farrah and Jenna didn't get her nominated
, as Jenna wanted to keep her around to confront her about the nasty comments, which turned out to be fake.
So Janice will face the next public vote alongside Gail Porter, Scoop, Chloe-Jasmine and Stevi Ritchie.
CBB third eviction: who should go home?
Stevi Ritchie and Chloe-Jasmine
39.94%