Farrah Abraham and Jenna Jameson had to face the Celebrity Big Brother housemates and nominate them in person on their return to the house.
The two
women have been living in a secret house and spying on the housemates
since Friday, and making five nominations based on what they saw and heard.
They chose James, Natasha, Sherrie, Bobby and Austin. On their
re-entry to the house tonight, the duo had to face those housemates
and tell them exactly why they had been chosen for nomination.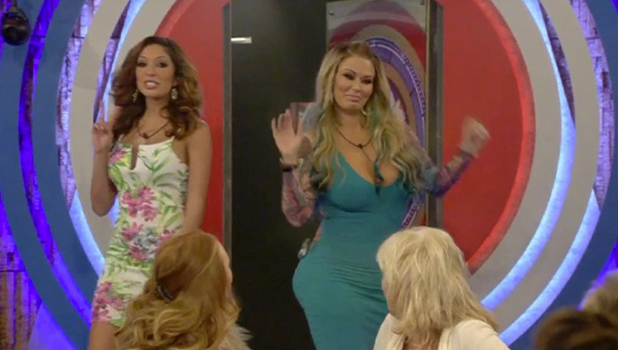 Farrah seems thrilled at the idea, saying: "This is so exciting, this is ground breaking."
They tell Austin he is a "turncoat", while Jenna tells Natasha: "Partly because we've had a few little rows and we came to terms. So when we watched all your conversations after we were were pretty shocked."
Bobby was nominated for being "the sanction of evil" after his impressions of the girls during the talent show, while Jenna tells James: "Within seconds of me leaving, you called me a b*tch and that you didn't really like me. That you walked on eggshells around me."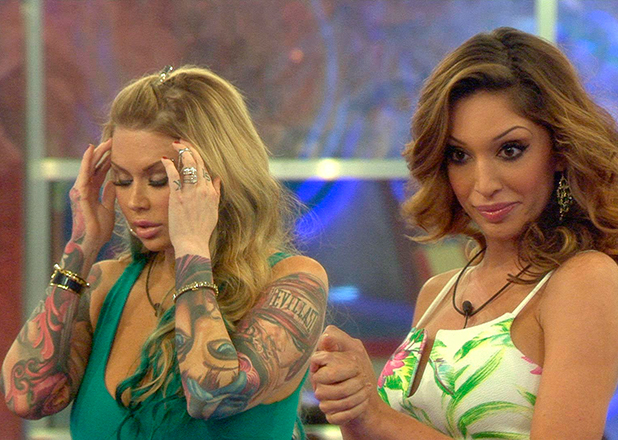 As for Sherrie, Jenna says: "It was really between two people, but our last nomination is Sherrie…from my point of view I really, really like you, I felt like I was really cool with you and you said really mean, mean things about me."
BUT… Big Brother then lets Jenna and Farrah in on the secret that the housewives knew they were being spied on and tense five housemates have now been given immunity.
Instead, it's Chloe, Stevi, Janice, Scoop and Gail who will face the next public vote.
They also learn that the housemates were TOLD that if they were nominated by Jenna and Farrah they would be immune, meaning they tried their hardest to say mean things to make sure they were nominated.
As you can imagine, Jenna and Farrah are pretty shocked….
"So that is why you guys were mean? You don't have to laugh at me, you hurt my feelings," says Jenna, who storms off. "Do you understand how it feels…when people I liked a lot just turn on you within a second?"
We will see the full fallout on tonight's
CBB
, which airs 9pm on Channel 5.
Are you a fan of CBB's Farrah Abraham? Answer in our poll!
NO. WAY. She's too much!
76.86%
YES! She's making great telly!
18.70%
Hmmm..I can't decide if I like her or not
4.43%